Throughout March, we're highlighting people, places, and products within our Residential Products segment. First up, meet Javier Montano with Vertex Fasteners.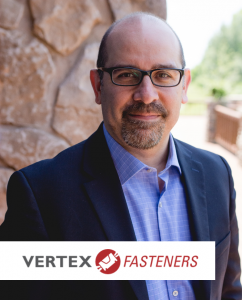 Vertex develops, manufactures, and distributes fasteners (such as clips, staples, nails, and rings), fastening tools, and fastening machines used in the assembly of many products.
Vertex primarily serve the markets of upholstered furniture, bedding, automotive seating, cages and traps, and fencing and razor wire. Serving this many distinct markets means serving many different customers, which is where Javier shines. As International Sales Manager, he interacts with customers around the world every single day.
Tell us about your background.
I have a background in Industrial Engineering, although for most of my career, I have worked in the technical side of sales. For almost 20 years, I worked for a company in the gas and welding industry, leading a marketing and business development unit as well as a team of welding applications experts. Continue reading →