The Partners in Progress award is our company's highest and most distinguished honor – one that has gone to the great leaders in L&P history.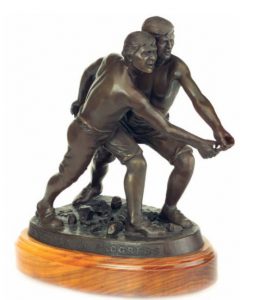 The origin of Partners in Progress dates back to Everette Wyatt, a sculptor and longtime L&P employee, who was challenged to create a work of art depicting Leggett's spirit of partnership.
He came up with a sculpture of two individuals pulling together to accomplish a task, which ultimately became both the symbol for and spirit of the award.
A larger-than-life version of this sculpture was dedicated in the mid-1990's at our Corporate Headquarters.
At the dedication, former board member Herbert Casteel said: "The thousands of men and women who are Leggett & Platt bring to this company a wide variety of talents and a great range of abilities. Yet throughout this company, there is a spirit of partnership, an attitude of mutual respect, a cooperative of effort toward common goals. People count at Leggett & Platt, and therein lies the secret of our success."