Throughout March, we're highlighting people, places, and products within our Residential Products segment. Today we're putting the spotlight on Vinny Dimino with Sponge Cushion, Inc.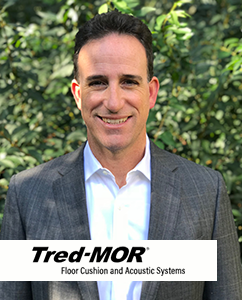 Sponge Cushion manufactures high-density, premium carpet cushion made with 100% synthetic rubber. You may be more familiar with Sponge Cushion's product brand name: Tred-MOR®. Located in Morris, Illinois, the operation has served commercial, hospitality, and residential industries since 1961.
Carpet cushions from Sponge Cushion provide lasting comfort underfoot and can extend the life expectance of carpet by up to 50%! Their acoustic underlayments can also enhance sound quality and reduce impact noise when used underneath wood, engineered wood, or laminate flooring.
Sponge Cushion products are sold through a variety of channels including wholesale distribution. However, most of their business comes through large commercial construction projects and international hotel chains. You can find their products in hotel rooms, casinos, conference centers, and businesses around the world. You may even have their underlayments in your own home.
Tell us about your background.
I began running a sales agency exclusively with Sponge Cushion in 1995. That opportunity focused on sales within the wholesale flooring market. In 2006, when the company was acquired by L&P, I continued on in a sales capacity. Then, in 2011 I joined L&P as the Eastern Regional Manager for our Hospitality and Commercial Sales Division, where I remain today.