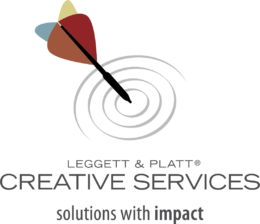 Just across the parking lot from our Corporate Headquarters, you'll find a group of 35 creative minds brainstorming, storyboarding, and each day delivering solutions to their customers. This is Creative Services, Leggett's in-house marketing team.
By offering assistance within design, websites, writing, photography, videography, printing, and tradeshows, the Creative Services team completes a remarkable 1,400 projects per year!
Keeping Up with Demand
Creative Services has come a long way since its humble beginnings in 1966, when it was a one-man shop devoted to providing logo and design services to Leggett's customers. "Although it was overhead for Leggett, the initial strategy was to help our customers sell more so they'd buy more Leggett components," says Susan Chapman, Operations Manager, who joined the department in its early years.
As Leggett began to acquire new businesses, the staff slowly increased as well, but the team was still mostly dedicated to serving clients' needs, leaving little time for our own branches. In 2008, Creative Services began to focus on creating strategic marketing for our branches, offering them everything from product sheet design to entire ad campaigns composed of videos, websites, and print and web ads.
Today, Creative Services places an even greater emphasis on serving our branches. Smaller functional teams regularly visit with branch management, sales teams, and account representatives to tour the facilities and learn firsthand about processes and products. "These branch visits have driven some recent growth for us, but more importantly, they're a way for us to provide better service through face-to-face interactions," according to Staff VP, Michael Margolies.
The team expects to see even more growth in the coming months. "Our web, video, and tradeshow services are particularly in high demand," explains Michael. "As technology trends continue to evolve, marketing is moving away from traditional print media and more online, but all channels must be supported. A lot of our energy today is focused on supporting our Business Units with digital marketing solutions."
Collaborating to Better Serve the Customer
With many of our branches taking advantage of the assistance offered by Creative Services, one single project or campaign often requires efforts across the entire team. "Collaboration is crucial in every workplace, but it plays a major role at Creative Services because our campaigns employ multiple creative processes," says Evan Younker, Senior Video Editor. "Without constant communication, the campaigns would feel very disjointed."
Kickoff meetings at the beginning of larger projects help to outline the team's overall direction and collaborative efforts.
"We come together and ask the necessary questions to deliver a quality end-product," says Jesse Kinzer, Video Editor. Adds Evan: "The more creative minds we have on one task, the more likely we are to come up with a great result for the customer."
"Our team isn't just doing a job; this is who we are," says Michael. "We have an office full of masters of their craft – always studying, collaborating, and learning from other. The team's passion about our projects translates to superior quality, and delivering superior work to our customers is like putting a signature on the corner of a master's painting."