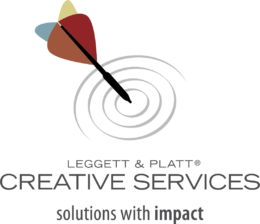 Just across the parking lot from our Corporate Headquarters, you'll find a group of 35 creative minds brainstorming, storyboarding, and each day delivering solutions to their customers. This is Creative Services, Leggett's in-house marketing team.
By offering assistance within design, websites, writing, photography, videography, printing, and tradeshows, the Creative Services team completes a remarkable 1,400 projects per year!
Keeping Up with Demand
Creative Services has come a long way since its humble beginnings in 1966, when it was a one-man shop devoted to providing logo and design services to Leggett's customers. "Although it was overhead for Leggett, the initial strategy was to help our customers sell more so they'd buy more Leggett components," says Susan Chapman, Operations Manager, who joined the department in its early years.
As Leggett began to acquire new businesses, the staff slowly increased as well, but the team was still mostly dedicated to serving clients' needs, leaving little time for our own branches. In 2008, Creative Services began to focus on creating strategic marketing for our branches, offering them everything from product sheet design to entire ad campaigns composed of videos, websites, and print and web ads.