Each week in "A Linking Mess" our copywriting team offers their thoughts on links and articles around the internet that have caught their attention.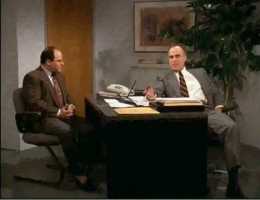 10 Things Bosses Never Tell Employess — But Should – LinkedIn Pulse
Paul Johnson, Sr. Copywriter: This is an appropriate article to discuss as I am Shela "Mad Dog" Ward's boss. I'm not comfortable with the term "boss," by the way, but there's not much way around it. "Supervisor" sounds too informal and "kingpin" is probably too much. "Manager," isn't bad, though. I'm Mad Dog's manager.
Shela Ward, Copywriter: I'm not sure how I feel about the word "manager." It kind of makes me sound like an actor or something. "All appearances should be scheduled through Mad Dog's manager." Ok, I guess I don't mind it.
Paul: This goofy article lists 10 things that bosses should never tell employees, but should. Right out of the gate, it became ripe for ridicule: number one is "I really do care whether you like me." Maybe the author is more insecure than me, or maybe my situation of being kingpin over just one Mad Dog lends itself to a less formal (see professional) relationship, but I don't worry whether or not Shela likes me or not. I know she does. Continue reading →