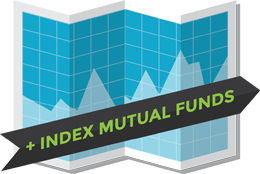 Note: Make sure you check out the rest of the series on personal investing.
Picking individual stocks may be fun and exciting, but it usually generates a much lower return than simply investing in low-cost, index mutual funds.
Four Options
If you're going to invest in stocks, you basically have 4 options:
Pick Stocks Yourself. You can decide, for yourself, in which individual stocks you'll invest.
Use a Broker. You can pay your stock broker a fee (i.e. commission) to pick stocks for you.
Invest in Mutual Funds. You can pay a mutual fund manager a fee to actively select stocks for you. The annual fee is typically 1% – 2% of your investment.
Use Index Mutual Funds. Index mutual funds simply invest in most or all stocks in their respective market index. They don't pick stocks, so fees are much lower, typically 0.05% – 0.50% each year.