Our new LP Comfort Connect™ technology provides a unique platform for delivering smart, customizable products to our customers. However, this innovation would never have been possible without the dedicated work of our Comfort Connect team. They collaborated to find unique solutions, improve processes, and differentiate our company in the marketplace through the development of this technology. Today we shine a light on just one of those team members.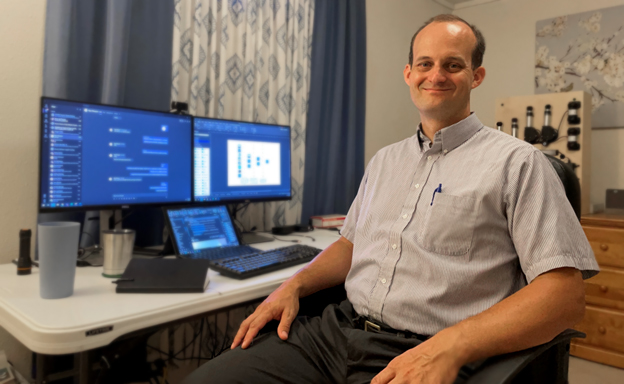 Nate Hobbs began his career at L&P in August of 2018 as the Director of Engineering – Electrical. Since that time, he's gained responsibility for the Product Development Quality Assurance department as well as internal software tools and systems. He also helps to lead the team in charge of developing L&P's new Comfort Connect™ technology – proprietary hardware and software which are integrated to support L&P's newest adjustable bed product, which is reaching the final project stages. In addition to a traditional remote, movements and feature sets of the bed are controlled through the LP Comfort Connect™ app, which was also developed by the team, and integrated with Alexa to enable voice commands.
Nate's work with the Comfort Connect™ project began after the product had already been conceptualized and prototyped, but his knowledge of systems and engineering as well as his experience in quality assurance was vital to the successful deployment of the product. "Some initial feasibility work was complete and basic software was developed, so my role is to work with the team to bring the product to full maturity and help get it into production," says Nate.
The project hasn't come without its challenges, however. "The technology is required to be very robust, so making sure everything works properly every single time so the consumers don't have any inconveniences is a huge priority. Part of my team's job on the quality assurance side is to go through the process of system integration and regression testing before the product is released to consumers," he shares.
In fact, customer experience is the primary focus of Nate's work. He has worked with the team to develop solutions vital not only to the usability and functionality of the software itself, but he's even played a part in creating in-house testing capabilities at our production facilities. "The team developed in-house programming stations as well as an end-of-line test station so that we can ensure everything on the adjustable base functions properly before passing the product on to the consumer," he says.
The Comfort Connect team has a monumental task – to create the industry's first voice-controlled bed system – and with leaders and team members like Nate, it's becoming a reality. When the project is complete, LP Comfort Connect™ will be released on a limited-model production basis.
"My favorite part about working on the Comfort Connect project has been making sure all the pieces work together. From the cloud software, control box, test systems – taking all the components and putting them together to create such a unique product has been challenging, but has also given me the opportunity to be part of something that's never been done in the industry before," he says.