At L&P, we are proud to be a global company, employing people from many backgrounds and cultures. Our company values — Put People First, Do the Right Thing, Do Great Work Together, and Take Ownership and Raise the Bar — tie us together and guide us to be more connected, collaborative, and innovative.
As we continue sharing about our global mindset, we invited Samantha Lewis-Horner, Vice President of Human Resources, to share how she leads an international L&P team.
"When I joined L&P a year ago, it was clear to me that this is a global organization that values people," said Samantha. "A global team brings diversity of thought and personality. We may think and act differently across cultures, but these differences are ultimately strengths that can bring benefit to the whole company."
Samantha leads a team of HR leaders — Alan Ji, Clare Rees, Judith Kuhn, and Lori Kolodziej — located in North America, Europe, and Asia Pacific. Alan works from China, and Lori works from the United States. Both Clare and Samantha are based in the United Kingdom, and Judith is based in Germany.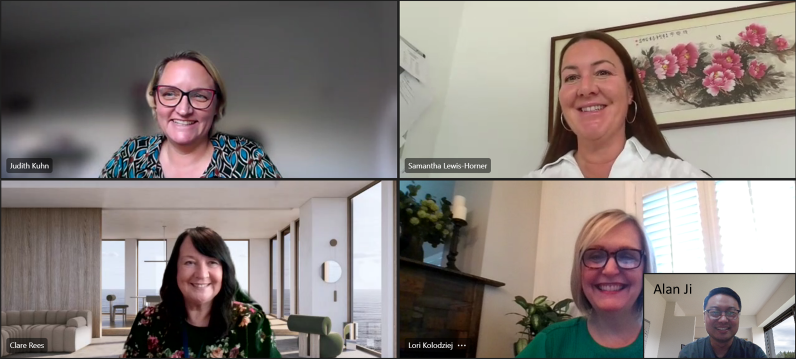 The team works closely with our specialized business units to provide global HR support that promotes growth through investing in our people, culture, and the processes that keep us competitive. Samantha Leads our specialized HR segment and is the strategic lead, along with Alan, Senior HR Director for Asia Pacific, for our Automotive business. Judith is the HR Director for Specialized Products in Europe and strategic HR lead for our Hydraulics business. Lori is the HR Director for Specialized Products in North America and strategic lead for our Aerospace business. Clare is a Senior HR Business Partner, driving Transformation and Capability improvements across our Specialized Products segment.
Every six weeks, Samantha hosts Listening at Leggett—an hour-long meeting without an agenda where the team can speak about any topic or issue.
"It's important that we listen to our teams, no matter where they are in the world," said Samantha. "We could all be better listeners, and we should be open to and listen to other people's opinions. We only get the best ideas if everyone contributes."
When asked how her team embraces a diversity of perspectives and ensures everyone stays engaged and connected, Samantha shared these key points with us:
Create clarity and foster transparency and trust, especially around future plans.
Be fair, consistent, and accountable.
Share and celebrate success.
Use available collaboration tools to check in.
Respect people's time and time zones.
We're really grateful to this team for putting people first, doing great work together, and enriching our global mindset!