During Hispanic Heritage Month, we're inviting L&P employees to share about their everyday Leggett life and their heritage.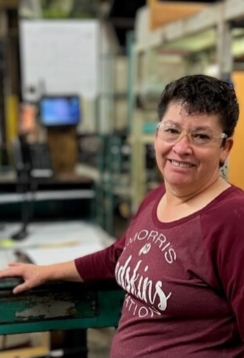 We'd like you to meet Angelica Lemus! Angelica is an Inspector and has been at our Sponge Cushion branch for more than 23 years.
As an Inspector, Angelica determines if our carpet underlayment products are within quality limits by monitoring the appearance, thickness, and dimensions of the underlayment. She also records the thickness and weight measurements and submits samples for lab analysis.
"I enjoy my job very much. I like that I'm responsible for ensuring that our carpet underlayment is being produced at the highest level. I also enjoy working with my coworkers," said Angelica.
"When it's time to work, I arrive early each morning and sit in the breakroom. I like to take this time to mentally prepare for my day and ensure I have all my tools ready. After work, I go home and relax with my family. I enjoy cooking for them. I also like to spend time with my granddaughter, Genevieve."
When sharing about her heritage, Angelica said, "To me, heritage is family, and I am proud of all of us."