During Hispanic Heritage Month, we're inviting L&P employees to share about their everyday Leggett life and their heritage.
We'd like to introduce you to Maria Medina Alberto! Maria is currently an 0FC Operator and has been with L&P for 20 years.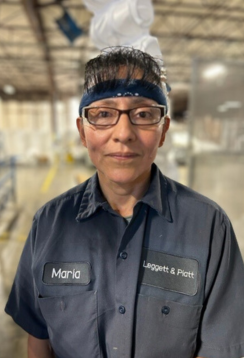 "I pray before work. When I arrive at work, I communicate with the prior shift's team to get an understanding of how the machines are doing and discuss anything I need to take care of. Throughout the day, I help where needed but mainly perform my role, which is feeding strands of foam into a machine. Before it's time to leave, I work with my team to clean the area and leave it in good condition for the next shift."
When asked what she enjoys most about work, Maria shared that she enjoys learning new things every day. When she's not at work, she loves to spend time with her granddaughter.
"My granddaughter is my strength and motivation. After work, I spend time with her, and I feel like a child playing with her at the park."
When sharing about her heritage, Maria said, "I am so proud to be Hispanic, and I feel blessed to be living in this country, even if it is not my country of origin. I love my first language, Spanish, and I feel proud to speak it."