Our tenth summer of the Doors Internship Program is underway! Through virtual workshops, our interns work on goal-setting, networking, personal branding, and communication within their fields.
We invited our interns to share their experiences this summer.
Meet Dawson Jeffers from Troy, Missouri. Dawson is a Junior at Missouri University of Science and Technology (S&T), majoring in Mechanical Engineering.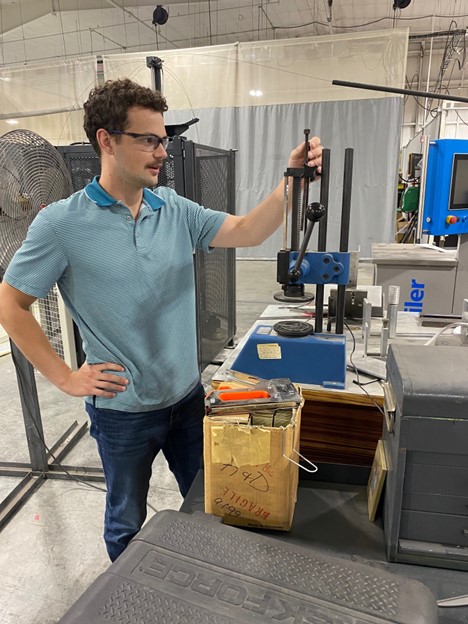 What does your internship with Leggett entail?
My internship at Leggett involves a lot of flexibility and problem-solving. I am in the Bedding division at the Idea Center, and I have been fortunate enough to be involved in a wide variety of projects, from product design to industrial engineering. Every day has been different and challenging.
What is the most valuable thing you've learned so far during your time at Leggett?
The most important thing I've learned is to communicate effectively with different people. You must communicate differently between Engineers, Project Managers, and Shop Technicians based on their technical understanding and communication styles. I've also gained a clearer understanding of what engineering looks like in the professional world. I've been tinkering for my entire life but understanding the documentation and workflow of a company like Leggett has helped me see what it takes for a large group of engineers and other professionals to come together and create a quality product.
What are your goals through your internship?
My primary goal this summer is to soak up as much knowledge as possible, while also developing relationships to open doors in the future. I have so much to learn, and many skilled people are here to help me hone my craft.
What has been your favorite part of your internship at Leggett?
The open-minded attitude. If I have an idea, I will not be met with a "this is just the way we do it" mentality. Everyone is open to change and ready to innovate and progress. And if my idea differs from the right one, my team tells me why and the communication channel is very open.
How will you apply your experience this summer as you return for the Fall semester?
I look forward to hitting it hard with new skills, like Excel calculations and Solidworks added to the toolbox. In terms of my career, there have been a lot of skills that I have learned this summer that would usually be in my first three months of full-time work. Having some of that learning curve out of the way will boost my career and allow me to jump right in.
Please join us in wishing Dawson well!