At Leggett & Platt, we are committed to being good stewards of the environment. One of the ways we are working toward that goal is by reducing our carbon footprint and energy use. In 2018, we partnered with the U.S. Department of Energy (DOE) Better Plants program. The program is a national initiative to improve energy efficiency across U.S. industries, including manufacturing.
Since joining the program, three of our facilities have identified energy-saving projects through on-site trainings. We talked with Tamara Cook, Sustainability Director, about our partnership goals with the DOE Better Plants Program and the energy-saving projects across L&P.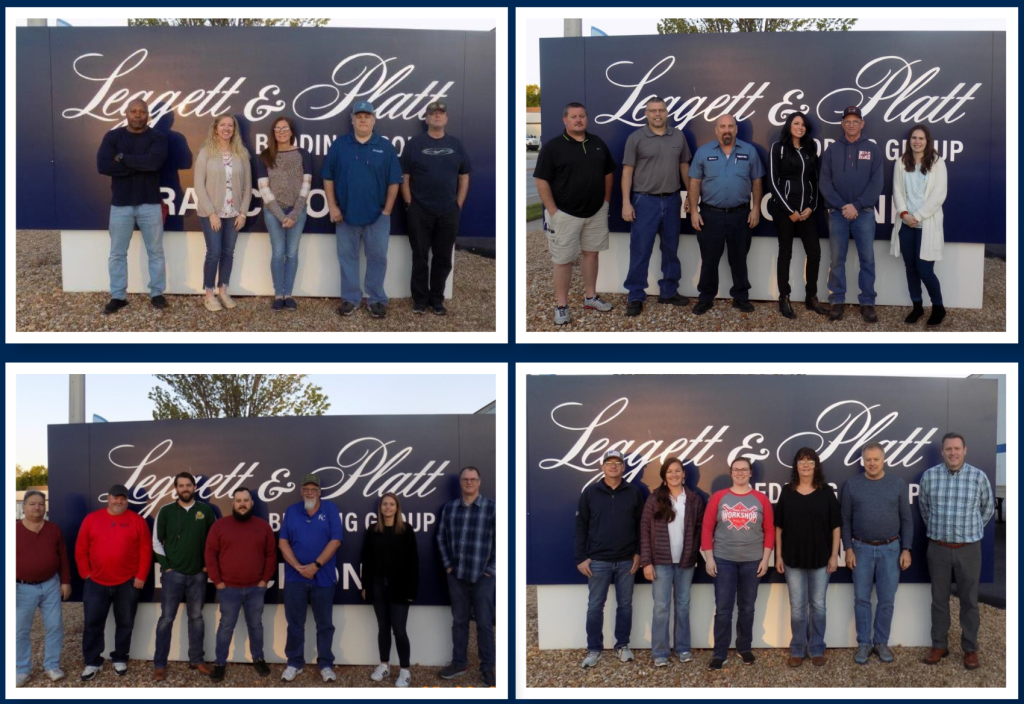 What is our goal in partnering with the DOE Better Plants Program?
We voluntarily committed to this program in 2018 and set a goal to reduce our energy usage in our U.S. facilities by 25% in 10 years. As part of the program, the DOE provides free technical assistance to analyze energy usage in our U.S. facilities. Among other trainings, they offer Energy Treasure Hunts to help train a manufacturing facility to identify and quantify energy-saving opportunities.
What kind of energy savings did you find at the Carthage Spring Treasure Hunt?
In May, we conducted an Energy Treasure Hunt at Branch One (Carthage Spring) in Carthage, Missouri. Carthage Spring has an annual energy cost of about $1.2 million for electricity and natural gas. Through the training, four teams of employees from Branch One and other U.S. Spring locations identified multiple energy-saving projects, resulting in savings of approximately 10% of the overall energy bill—over $100,000! All projects would have a payback period of less than a year and could be implemented by employees at Carthage Spring.
In addition, Branch One is considering installing solar panels on one of its buildings. Solar panels would result in additional electricity cost savings and generate zero-emissions on-site electricity, reducing the Branch's energy use and carbon footprint if implemented.
What are the next steps for Carthage Spring?
The next steps will include taking action and implementing the identified project opportunities. The Branch may need to modify policies, update preventative maintenance plans, and install or optimize equipment to sustain the projects and eventually see year-over-year savings at the branch.
Additional energy-saving projects and equipment optimization opportunities may still be identified through additional information gathered from data loggers installed on equipment. The DOE will provide a final report that summarizes all potential options for Carthage Spring in the coming weeks.
Are there plans to have Energy Treasure Hunts at other L&P locations?
Teams from several U.S. Spring branches participated in the Branch One Treasure Hunt. By participating, they learned how to conduct an energy treasure hunt. These teams can now return to their locations and share their knowledge and best practices to implement trainings and find their own energy-saving projects.
The DOE has regular application processes for the free Energy Treasure Hunts. Branches can also conduct a hunt independently, and the DOE's website provides instructions on hosting an Energy Treasure Hunt. If your U.S. or international branch is interested in learning how to conduct a Treasure Hunt, please contact the Sustainability team, and we can provide you with these online resources and assist in coordinating an event.
Congratulations to the Carthage Spring Team and Branch Manager, Kile Lesmeister, for doing their part to be good stewards of the environment and working together to better our culture of sustainability!