In honor of International Women's Day, Sonia Smith, President of L&P Automotive, shares what this day means to her: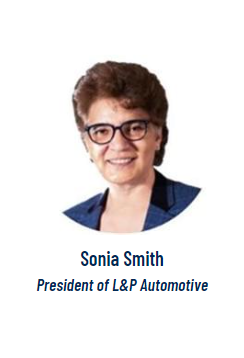 I wanted to share with you the significance of International Women's Day for me, personally. As a woman, I have encountered numerous challenges and obstacles that women face in various aspects of life, including, but not limited to, gender discrimination in the workplace, unequal access to education and healthcare, and limited opportunities for advancement.
With that said, I have been so fortunate that here, in the Leggett family, I was given so many opportunities to advance my career, learn new skills and have exposure to different aspects of the business. Not only does it fill me with pride to be able to do what I enjoy so much, it drives the sense of responsibility that I feel to ensure that others get such opportunities so that they may thrive as I do.
International Women's Day is an annual global event that is observed on March 8th to commemorate the social, economic, cultural, and political achievements of women worldwide. It is also a day to advocate for women's rights and gender equality and to raise awareness about the ongoing struggles and challenges faced by women.
For me, this day holds a special meaning as it provides an opportunity to reflect on the experiences of women from diverse backgrounds, to celebrate their achievements and contributions, and to advocate for their rights and equal opportunities. It is a day to recognize the tireless efforts of women who have made significant strides towards gender equality and to acknowledge the work that still needs to be done.
International Women's Day is not just a symbolic event, but a powerful platform for women to raise their voices and advocate for their rights. It is a day to inspire and empower women to overcome challenges, break stereotypes, and pursue their dreams.
International Women's Day is an important occasion for me and for women around the world to celebrate, reflect, and take action towards achieving gender equality. I hope that we can all join hands to create a more inclusive and equitable world where women can thrive and reach their full potential.