During Black History Month, we're inviting L&P employees to share about work, what they're proud of, and what this month means to them.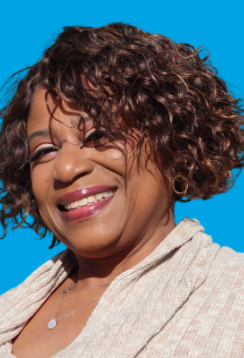 We'd like you to meet Paula Lewis! Paula is a Staff Accountant at our Hanes location in Winston-Salem, North Carolina.
Tell us about work.
Auditing and reconciling company accounts is a portion of what I do as a staff accountant. Facing new challenges each day keeps my job exciting and interesting, and I find purpose as I continuously learn and grow in my position.
I love helping people and aim to make a difference at work and in my personal life. I like to start each day by greeting my co-workers with a warm "good morning" and a big hearty smile to set the tone.
My motto is "Always happy to help." Being a team player is very important to me because I know that as a team, we are stronger, better, and more dynamic as a department and company. I strive to develop a good rapport with my colleagues and believe that superb customer service, good communication, and hard work are keys to an excellent work environment.
What are you most proud of?
In my personal life, I am most proud of my daughter and her accomplishments. My proudest moment was when she graduated from an Ivy League school—Cornell University—with her second master's degree. Her academic career includes degrees in psychology, professional counseling, cell and molecular biology, chemistry, and biomedical and biological research with a neuroscience specialty.
She is starting her own business as a neurodivergent counselor to educate and empower people to create the life they dream of. Years ago, these accomplishments wouldn't have been allowed or possible for my daughter, and for that, I am very thankful for progress and her perseverance.
What does Black History Month mean to you?
While this month is a time of reflection and heightened awareness of Black culture and the accomplishments of African Americans, there is still a lot of work to be done.
During this month and each day, I celebrate the past, present, and future accomplishments of all African Americans and their contributions to society for the greater good. I am proud to be employed by a forward-thinking company that focuses on diversity, equity, inclusion, and caring about people.