Leggett & Platt fosters a culture of giving, encouraging our employees to Do Some Good. Throughout the course of our local, Southwest Missouri campaign, we will shine a spotlight on several of the incredible agencies that United Way serves in our community. Times may be difficult, but we have witnessed communities rising to meet these hard moments. If in a position to give this year, we encourage you to support your local agency, too.
More than 36 million American adults struggle to read, write, do math, and use technology above a third-grade reading level.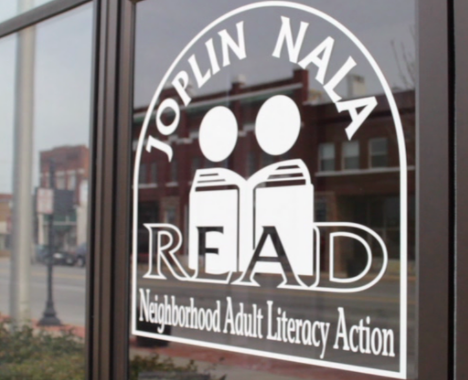 For 40 years, the Joplin Neighborhood Adult Literacy Action, also known as Joplin NALA Read, has strengthened the skills of adult learners throughout our community.
Their mission is to provide tuition-free programs to improve the self-sufficiency of families by supporting adult learners to increase their literacy skills. Founded in 1981, NALA offers classes and one-on-one tutoring in literacy-related subjects, including reading, writing, math, computer literacy, and English as a second language (ESL).
"At NALA, we want to close the book on illiteracy," explains Executive Director Grace Clouse. "In the local communities of southwest Missouri, there are roughly 11,000 adults with low literacy levels. We want to be involved in our communities, providing support, resources, and assistance to help address this generational literacy gap."
NALA works hard to evaluate the needs of each learner to identify their personal literacy goals. Classes are free of charge for adults over the age of 17, and NALA provides computers, textbooks, and curriculum. With the ongoing COVID-19 pandemic, they've adapted their programming to assist students in a safe, remote way. At the onset of the pandemic, NALA staff spent several months developing virtual programming to be able to offer online learning opportunities.
The cost of student and tutor resources, supplies, and program management is approximately $15 per hour of student instruction. NALA is a United Way partner agency and receives about 22% of its funding from the United Way. The remaining funds come from grants, community organizations and foundations, individual contributions, and an annual fundraiser and literacy awareness event.
"Ultimately, we believe literacy should be within everyone's reach – empowering adults to break the cycle of intergenerational poverty by acquiring the skills they need to succeed," says Grace. "If we can help adults reach their full potential, their efforts will give them access to a better life and will make a positive impact on our community."
If you'd like to learn more about the mission of Joplin NALA Read or you're interested in volunteering, please visit joplinnala.org or call 417-782-2646.