Over its 72 years in Kendallville, Indiana, L&P's No-Sag Products facility has had a reputation of welcoming and working with veterans and active duty military. In fact, their workforce makeup is comprised of around 8% military employees.
Two weeks ago, the facility was proud to accept the 2020 Northeast Indiana Manufacturers' Workplace Diversity Award. The award recognized their dedication and commitment to diverse and inclusive hiring practices.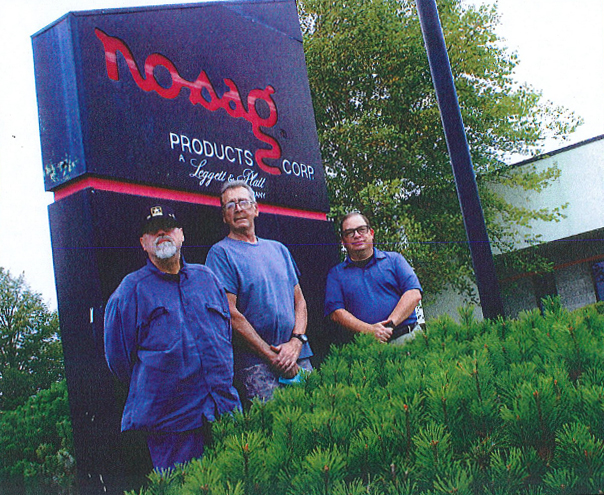 Over the years, the facility has been recognized several other times for their hiring practices and dedication to veterans. On November 7, 2019, No-Sag General Manager Russ Dunton, and Jason Maneke, Human Resources Manager, accepted the Hire Vets Medallion Award from Deputy Secretary of Labor Sam Shellenberger in a ceremony at the Department of Labor in Washington, D.C.
"Vets have a skill set that gives them a leg up," said Dunton. "Veterans are disciplined, receive training well, and are on time."
In 2008, the facility was also honored with the American Legion Certificate of Appreciation from the National Economic Commission of the American Legion.
No-Sag has provided jobs to veterans from World War II to the latest conflicts in Afghanistan. One of those employees was Sam Crossley, who started with the company in 1961. Crossley and his wife Linda were both longtime employees at the facility. Sam retired as a shift supervisor in 2008, after working there for 47 years. Linda continued to work part-time in the front-office. She shared that No-Sag was very supportive when Sam was drafted to go to war during the Vietnam War. Upon returning from active duty, his job was still waiting for him.
"We are like one big family here," she said.
"They have been good to me," said Tim Knox, a current employee and Army Veteran. "For a matter of fact they are good to all veterans. When I went to reserve status for the Gulf War, they were really supportive."
Since starting at the company, Knox has taken advantage of the company's apprenticeship and schooling program. He has completed three degrees and is currently working to complete a bachelor's degree in engineering management. The program is certified through the Department of Labor for tool and die laborers and manufacturing laborers. Leggett & Platt pays for the training as long as employees carry a "C" average.
Oscar Handshoe, a 28-year Air Force veteran was hired this September at No-Sag. He said he chose the facility because he was looking for a job close to home. His mother also worked for the facility and he was drawn to it's family focused culture.
Ron Bowie, a 14 year National Guard veteran, is currently a business unit and data analysis specialist at No-Sag. He was a member of the 1st Ballallion 293rd Infantry Division in Fort Wayne before transferring to Fort Benjamin Harrison to be a part of the National Guard band. Today he plays with the American Legion Band, which performs during Honor Flight celebrations at the Fort Wayne International Airport.
All three employees agree that their military experience has given them the skills, training, and leadership needed to be part of the No-Sag team. Handshoe said the teamwork he learned during his years in the Air Force can be transferred to the factory floor, when it comes to working with other employees.
"Vets have sacrificed a lot," says Jason Maneke. "The least we can do is give them gainful employment."
Our thanks to KPC Media Group, Inc. and the Greater Fort Wayne Business Weekly for originally publishing this story.