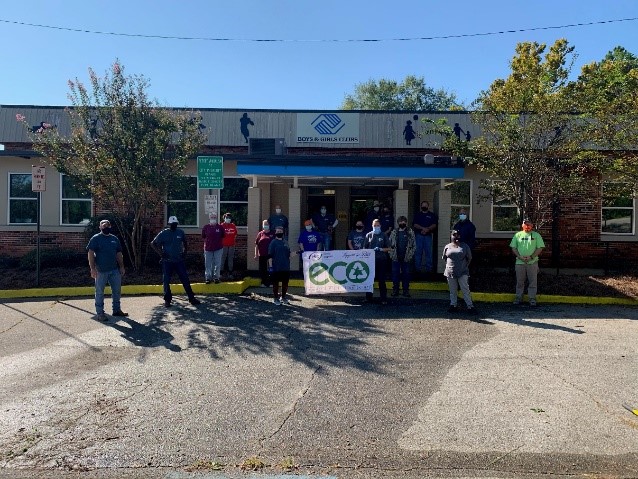 At Leggett & Platt, environmental compliance efforts ensure that air emissions, wastewater discharges, waste handling, and chemical use and storage are in full compliance with all local, state, and federal government regulations. Our Environmental team collaborates with branches to implement and sustain the Eco Initiative, our companywide environmental management system. 
Part of the program extends the Eco Initiative well beyond operations – encouraging L&P employees to take an active role in cleaning up their communities. 
Several L&P branches in Mississippi realized this was even more vital this year. During a time of heightened stress, anxiety, and isolation, many people depend on their parks and green spaces for much-needed relief – mentally, physically, and emotionally. After evaluating the needs in their community, the teams decided to volunteer their time and energy to make improvements at their local Boys and Girls Club of North Mississippi.  
Four L&P branches were involved in the endeavor: Omega Motion, Super Sagless, Elite Comfort Solutions, and Tupelo Sleeper. Their environmental teams recruited employee-volunteers to provide electrical updates to the Boys and Girls Club facility, clean, trim hedges, pull trees and overgrowth, plant roses, paint safety zones, and more at the adjacent public park.  
"One of the reasons we chose this project was to give the children and staff members at this facility a sense of pride," said Misti Lambert, Director of Environmental, Safety, Quality, and Continuous Improvement at Omega Motion. "Out of several possible projects in the area, we felt like this would make the biggest impact in our area. We want people to know that L&P is more than just a place to work. Our employees want to make a positive impact in our community." 
The laundry list of improvements might have seemed daunting to most, but fortunately, team members were eager to get started. Some even brought their own equipment to make their efforts more efficient and fast-paced!  
The pictures in the gallery below clearly show the impact this project had in their neighborhood. We appreciate their commitment to Eco Initiative and their efforts to provide a safe, beautiful recreational space for families in their community.  
Are you interested in joining a team that hustles together to Do Some Good? Omega and Super Sagless are both hiring for roles in their manufacturing facilities! You can apply for open positions at Omega here and Super Sagless here, both located in Tupelo, Mississippi. Follow our blog next week to learn more about the positions and culture offered at their facilities.