When Deb Veronda learned about the shortage of masks during the COVID-19 crisis, she got right to work. Deb is the HR Assistant at our Sponge Cushion facility in Morris, Illinois, and she wanted to help make the office a safe and healthy place to work.
"When the pandemic began," said Deb, "all I kept hearing on the news were reports of shortages of personal protective equipment. I knew I had to get busy sewing to protect those dear to me."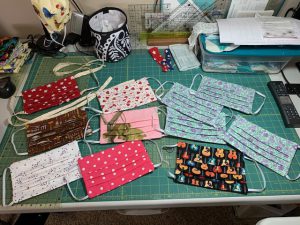 Deb has used her own resources to make hundreds of cloth masks – not only for her coworkers but also for her family, friends, and healthcare workers in her local community.
"I love to quilt in my spare time, so I have quite a stash of material. I began pulling fun fabrics with the hopes of lifting the spirits of the tireless souls working on the frontlines."
To recognize her efforts, Deb earned L&P's SafeGuard Leadership Award for going above and beyond to look out for others.
And Deb's outlook is inspiring. "I have always believed in kindness," she said. "If we could all be kind and take care of one another, this world would be a much better place."