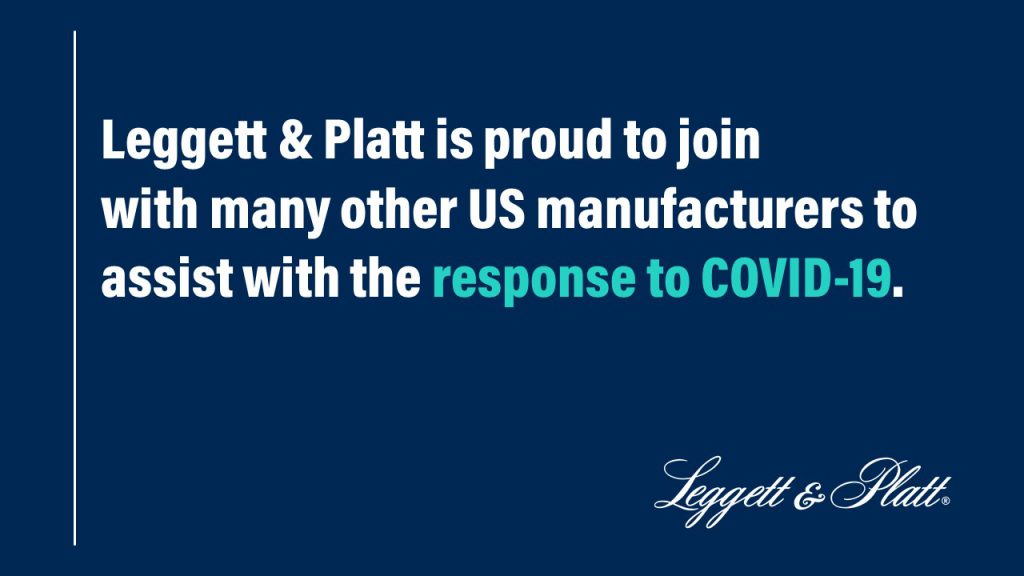 Leggett & Platt is proud to join with many other US manufacturers to assist with the response to COVID-19. Between our foam lab producing hand sanitizer, furniture operations creating cloth face masks, and bedding facilities supplying both components and finished mattresses for emergency use, L&P employees are providing innovative solutions to meet the urgent supply needs.
"L&P is a critical supplier of wire components to US N95 mask producers," explains Karl Glassman, CEO. "But, where they are able, our teams are doing so much more. We've redeployed raw materials for use by our branches and other companies in the manufacture of critical products, including the supply of foam bands used on face shields and the fabric required for many hospital applications."
The Company is also partnering with other US mattress producers, which collectively have the ability to manufacture and deliver more than 400,000 mattresses a week for potential emergency use during the COVID-19 crisis. L&P is using its mattress and components production capabilities to aid US mattress producers in fulfilling urgent needs in states all across the country.
"No one person or company can do everything," adds Glassman. "But if we all do what we are able, we can accomplish big things together."
US mattress manufacturers have reached out to the Administration and various local governments and hospitals to determine where needs exist and they stand ready to meet those needs. Click here to read more about what some of the US mattress producers are doing.