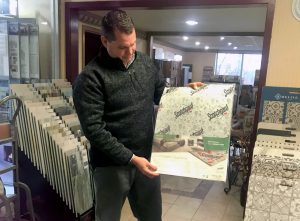 Dana Nevens was recently hired as a Territory Manager for our Flooring Products Division. We spoke with him about his first few months at L&P.
1. Can you tell us a bit about your background?
I've worked in the flooring industry for approximately 12 years. Most of those were spent in the hard-surface manufacturing side, which includes hardwoods and ceramic tile. Most recently, I had a national sales position with a relatively new company. I learned a lot from that job, but the schedule was very demanding for my family. I was looking for a change and learned about L&P. Since starting in August, I've really enjoyed getting to know the customers in my territory — which includes Connecticut, Rhode Island, eastern Massachusetts, New Hampshire, and Maine.
2. How has the transition gone so far?
I was hired to replace Jon Thierfeld when he retired from L&P. His retailers were very comfortable with him because he'd been working with them for over 25 years. Thankfully, I was able to travel the field with him for several weeks before he left. This allowed him to share the ins and outs of his customers in great detail — I still refer to those notes on a daily basis. It really helped me to earn the trust of my customers and to ensure them I would put in the same effort as he had to make sure their needs are met.
Since Jon left, I've found my sales support team here in Fort Worth to be just as accessible. I'll never have all the answers, but they're always a phone call away as I learn more about L&P's culture and the way we do things.
3. What does a normal work day look like for you?
The majority of my week is spent connecting with as many of our customers as possible. I try to meet face-to-face whenever I can, so much of my time is spent in the car traveling to various parts of New England.
I enjoy introducing retailers to new products they've never seen before. If they're an existing customer, I also evaluate their sales programs to determine what's working, what's not working, and make changes to increase their profits. The rest of my days are spent responding to calls or emails from customers who need to place orders and get answers to technical product questions. Every day is unique and I really like the challenge.
4. Has anything surprised you about L&P?
From prior interactions with the company, I only knew L&P as a flooring and underlayment supplier. When I learned the scope of our products and everything our company is involved in, it was very encouraging. On my team in the Northeast, it isn't unusual to talk to employees who have been here for over 20 years — something which is very unique in this industry. It speaks well for the company and I'm glad to be a part of it.