We value a culture of giving and encourage our employees to Do Some Good. One way is through our annual United Way campaign, which has challenged our employees to raise $125,000 this year! Over the next few weeks, we'll spotlight several incredible United Way funded agencies. Learn more about their stories and the effective work they do to help those who need it most in our communities.

Community Clinic
For more than 26 years, Community Clinic has been providing medical services to the children, families, and seniors in our communities. Last year, they saw over 7,000 patients and assisted with almost 13,000 prescriptions.
While these numbers are impressive, it's easy to forget that each one represents a person — with a name, a face, and a story. When you help one person, it can change their life.
Here's just one of those stories.
When Vicky came to the clinic, she was overweight and unable to work. She suffered from undiagnosed diabetes, significant heart problems, and depression. She was also very insecure and rarely spoke to people.
Community Clinic's providers quickly realized how sick she was. After receiving her diagnoses, Vicky began participating in one-on-one diabetic education, received nutrition and chronic disease management counseling, and began using insulin to manage her diabetes. By understanding her conditions, she was able to take charge of her health.
Vick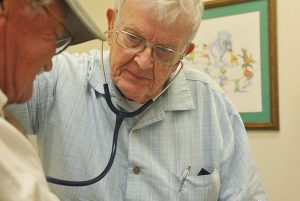 y has since lost over 80 pounds. She's managing her diabetes, is no longer insulin dependent, and has joined a group exercise program at the clinic. Her social, emotional, and mental health have greatly improved. Most recently, she was healthy enough to undergo a necessary heart surgery. Better healthcare has led to a better life, and she's feeling stronger than ever.
While her journey has been tough, the Community Clinic has been there every step of the way. Vicky is now working a part-time job and has moved into her own apartment. She credits the clinic with both saving her life and giving her new friends who feel like family. One of the clinic nurses even gifted her pots and pans for her new kitchen.
"I have so much respect and appreciation for everyone who works and volunteers at Community Clinic," shares Vicky. "It's amazing to consider how much I've achieved. They've been my support through the whole journey."
For more information about the services available at Community Clinic, visit joplinclinic.org