Throughout May, we're highlighting people, places, and products within our Specialized Products segment. Today we're putting the spotlight on Megan Alger, who works in Penetrant Inspection at Pegasus in Middletown, Connecticut.
She may have joined the Pegasus team just a few months ago, but Megan Alger is already brimming with experience, knowledge, and excitement about her role in nondestructive testing (NDT).
Every day, Megan employs various techniques to evaluate the properties of our materials and products without causing damage, and she ensures the products are safe for aerospace applications. Talk about an important job!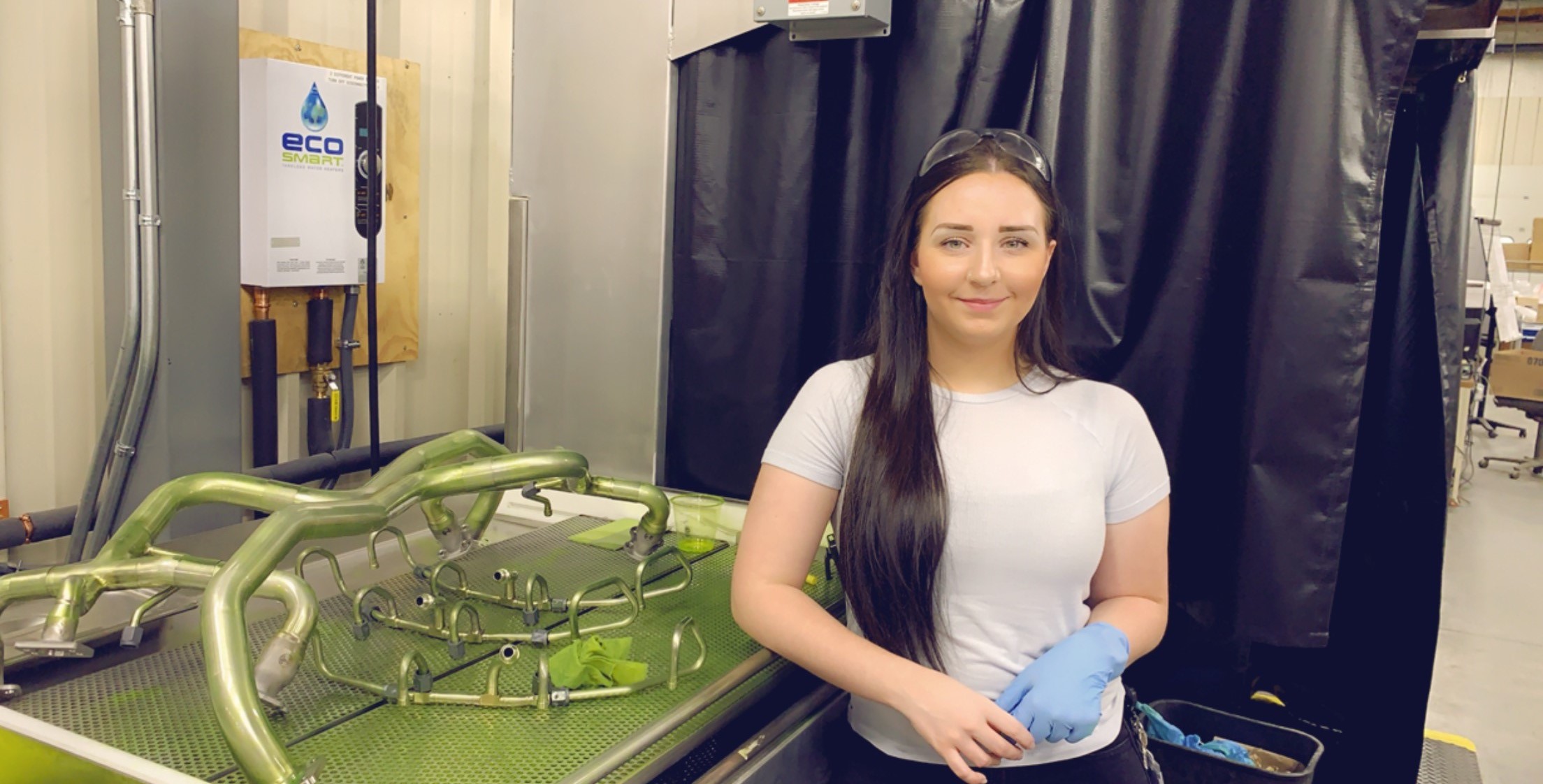 Tell us about your background.
I have worked in nondestructive testing (NDT) for about four years and on a variety of products – from 2-ton components down to tiny little 9/16" ball bearings. I'm fortunate to have a passion that also runs in my family. My dad is an ASNT LIII. (ASNT is the American Society of Nondestructive Testing. ASNT serves as a certifying body along with many other roles. So, an ASNT LIII is a level III, which is the highest certification possible in NDT.)
After watching my dad, I was inspired at a very young age to pursue NDT. On Saturdays as a kid, I'd get to help him run some parts through the fluorescent penetrant inspection (FPI) process, and then on Mondays, my dad's employees would reprocess the same components, so I could get feedback regarding my findings. I have been hooked since then.
What brought you to L&P?
The team culture at Pegasus ultimately drew me here. It's a culture that promotes cross-training along with the ability to move forward with my studies. I'm currently an LII, studying to become an LIII. To be able to prepare for exams while also learning radiography is just amazing.
What does a day in Penetrant Inspection look like?
I follow a very specific process. I always start with daily system checks to ensure the line and all its materials are controlled and within tolerance. The components come to me from various stages of the manufacturing process, typically after welding processes. I then begin processing for inspection, which starts with painting the components with a fluorescent dye (penetrant) visible under blacklight.
I let the penetrant "dwell" for the required time per customer specification, carefully wash the excess penetrant off the components, dry them in a controlled dryer for a set time, and develop them with a dry powder developer. A white contrasting background allows me to see any residual penetrant which may have become trapped in a crack or general discontinuity. That's where inspection and interpretation come in.
After processing, I inspect the components under a very specific blacklight, looking for "fluorescent indications." If I find some, then it's up to me to interpret the customer specification and decide if the indication is non-conforming or within tolerance.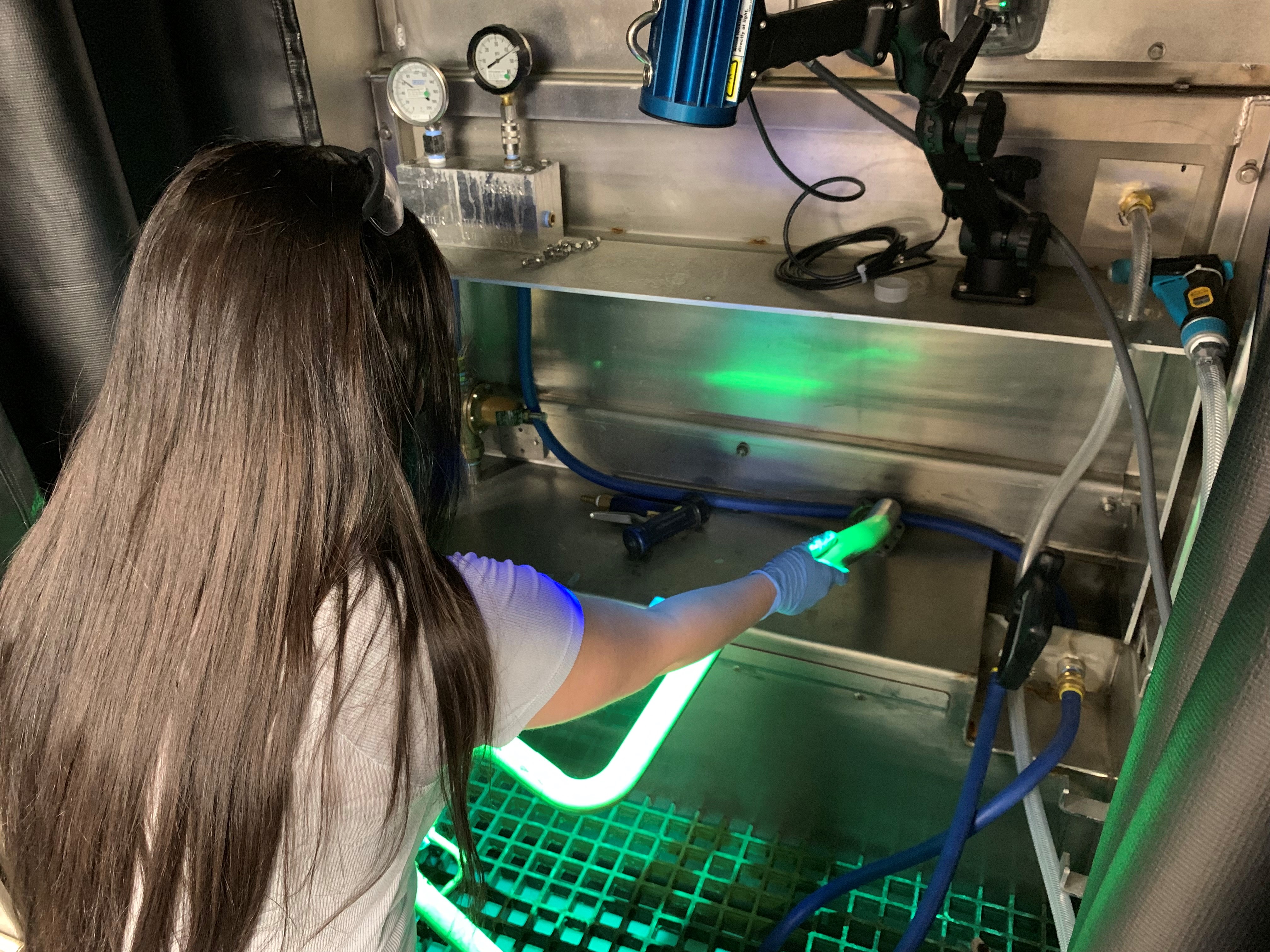 What's challenging about your job?
From a technical standpoint, the biggest challenge is interpretation of indications that may fall in a grey or uninterpretable area. These require extreme attention to detail, extensive research on the customer specifications, and advanced analysis.
From a personal standpoint, the hardest thing is trying to not recruit every employee in the building to my department. I love NDT! It is so rewarding, and I love to educate my coworkers on the process and how they could be successful in the NDT world with me!
What do you enjoy most about your job?
When I talk to my friends or manufacturing students about NDT, they rarely know it exists. I don't think many people know about behind-the-scenes inspection careers within the aerospace industry. So, I've made it my mission to inform them!
We frequently host student groups at Pegasus (my favorite days), and I try to inspire them to take part in my line of work. I love seeing younger generations get excited about something like quality inspection.
What do you enjoy most about working at Pegasus?
I most enjoy mentorship – both being mentored by LIIIs and other professionals in the industry, as well as mentoring students who have taken an interest in the field I love so much.
The reality is that NDT needs more people, and manufacturing needs more people. A huge gap exists between my dad's generation and my generation, where people have predominantly moved into other fields of work. I love inspiring others to get involved in the Aerospace/manufacturing/NDT world. I enjoy instilling confidence in others, helping them understand what they're capable of and just how far they can really go in this industry.
Our leadership at Pegasus is also invested in the next generation of manufacturing workers and getting them fired up about our industry. I am so thankful we share that passion.