Throughout March, we're highlighting people, places, and products within our Residential Products segment. First up, meet Javier Montano with Vertex Fasteners.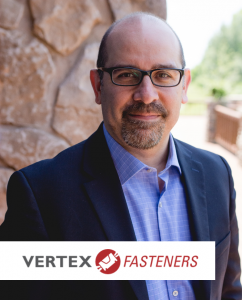 Vertex develops, manufactures, and distributes fasteners (such as clips, staples, nails, and rings), fastening tools, and fastening machines used in the assembly of many products.
Vertex primarily serve the markets of upholstered furniture, bedding, automotive seating, cages and traps, and fencing and razor wire. Serving this many distinct markets means serving many different customers, which is where Javier shines. As International Sales Manager, he interacts with customers around the world every single day.
Tell us about your background.
I have a background in Industrial Engineering, although for most of my career, I have worked in the technical side of sales. For almost 20 years, I worked for a company in the gas and welding industry, leading a marketing and business development unit as well as a team of welding applications experts.
What does a typical day in international sales look like for you?
Ha! There's really no such a thing as a "typical day" in international sales, but I'm lucky to have the support of a great team at Vertex. In 2018, we supported more than 200 customers in 70+ countries – and each country, market, and customer is different. I spend most of my day providing technical information, following up on new business opportunities, strengthening relationships, and completing shipping details and paperwork.
I also stay informed of what's going on in various countries – the economies, variations in exchange rates, and laws and regulations that may affect our exports. These elements can have an impact on our business.
What's challenging about your job?
Spanish is my first language, but I communicate with most of our customers in English. Being able to effectively communicate is a challenge for us all, but interacting in a language other than your own? That challenge is twice as hard!
I make a strong effort to provide accurate and correct information to our customers. Nobody wants a misunderstanding or to lose something in translation when dealing with international sales!
Another challenge is maintaining continuous business relationships with clients I don't regularly see face-to-face. For more than half of my clients, I know them solely by phone, email, or brief 20-minute meetings at a tradeshow. Earning their loyalty and knowing their product preference is only possible thanks to high-caliber service and excellent communication.
What do you enjoy most about your job?
After living in four different countries so far, I've learned to appreciate diversity. I enjoy getting to know different people with varying points of view. I always seek to understand their interests, concerns, and business cultures. I strive to serve as a leader in this business by keeping up the good reputation of Vertex and promoting the quality of our products. And that is something I truly enjoy.