If you want to get to know Leggett & Platt, you should get to know our people first. What better way for you to do that than by seeing a few of their favorite things.
Jim's role: Staff Vice President in Accounting
Job in a nutshell: Leading a team that ensures the accuracy of Leggett's financial information, reinforces the integrity of internal controls, and continuously improves existing processes.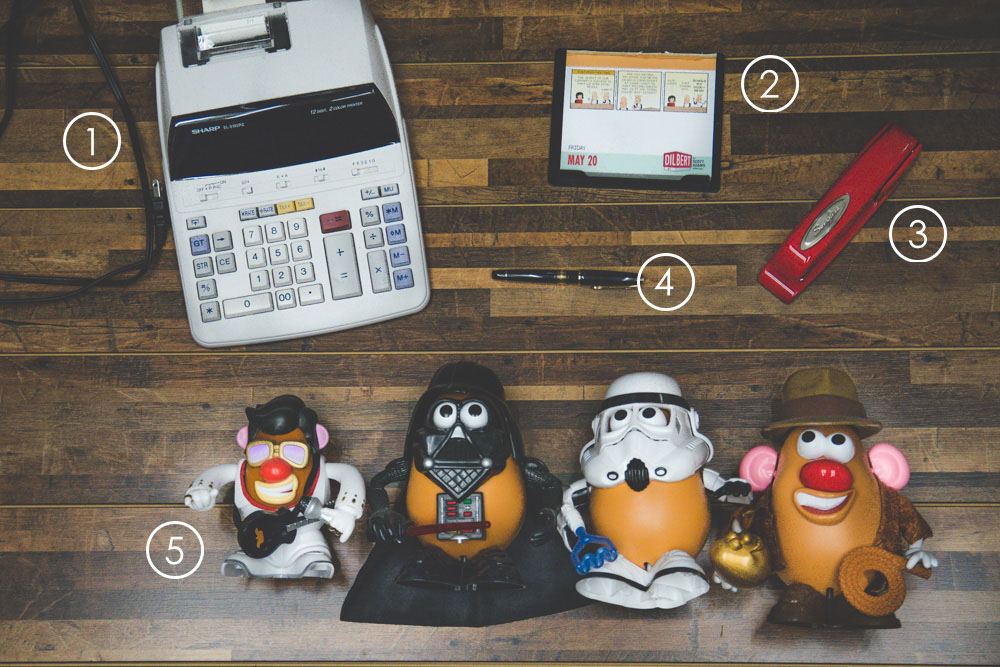 Calculator – Because I'm an accountant.
Dilbert Calendar – Deadlines are important in accounting: month-end, quarter end, year-end, plus quarterly and yearly audits. This calendar keeps me up-to-date and on track, while Dilbert keeps me laughing.
Red Stapler – It's a Swingline. I'm honoring a great movie by keeping this stapler on my desk.
Fountain Pen – I write with a fountain pen because it's like a trip back in time.
Mr. Potato Heads – This is just a sampling of my collection! My first two Mr. Potato Heads were Darth Spud and Spud Trooper from Star Wars. I saw them in an ad and my wife surprised me with them for Christmas. Over the years, my team members have gifted me many others to expand my collection.
Want to see more? Check out the series introduction.