If you want to get to know Leggett & Platt, you should get to know our people first. By now you've probably seen our Employee Spotlight series, which highlights how individuals across L&P have contributed in exceptional ways. We're proud to showcase our talented people.
Today we're starting a new series that will introduce our people in a unique and different way – through their office must-haves! Stay tuned to meet various accountants, engineers, techies, managers, administrative professionals, creatives, and others as they show off items they use in their day-to-day work lives.
To kick off the series, we'd like to introduce ourselves, the Life@Leggett content team, by way of a few of our favorite things.
Justin Kohley, Talent Systems Administrator in Human Resources
Job in a nutshell: Managing the systems and data used to recruit, set goals, review performance, develop employees, and conduct succession planning.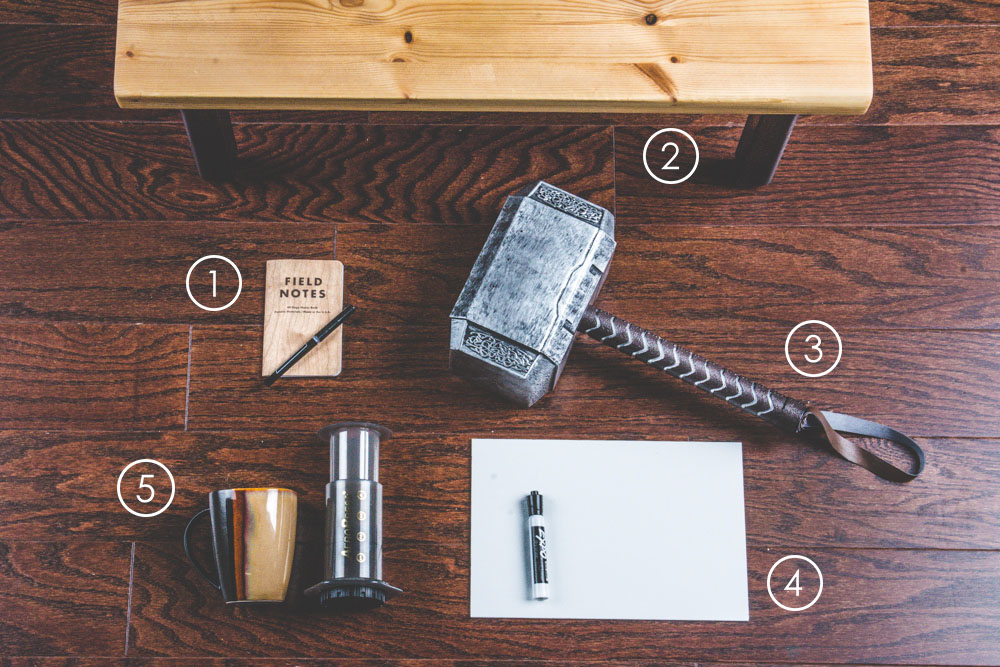 Notebook – Whether scribbling in a notebook or typing in OneNote®, I'm constantly taking notes. These tools help me learn, remember, and stay organized.
Standing Desk – I switched from a regular desk to a standing desk last year and never looked back. Standing makes me feel more energetic and focused throughout the day.
Mjölnir – The hammer of Thor. Because why not.
Dry Erase Board – My office has a 4' x 6' metal board which is perfect for sketching mock-ups, tracking projects, and drawing the occasional comic book character.
Coffee – I'm a 2-3 cups-per-day kind of guy. I keep an AeroPress® in my office so that a great cup of coffee is always within reach.
Rebekah Olson, Learning Design Specialist in Human Resources
Job in a nutshell: Drawing, writing, and using other learning strategies to contribute to the professional development of employees.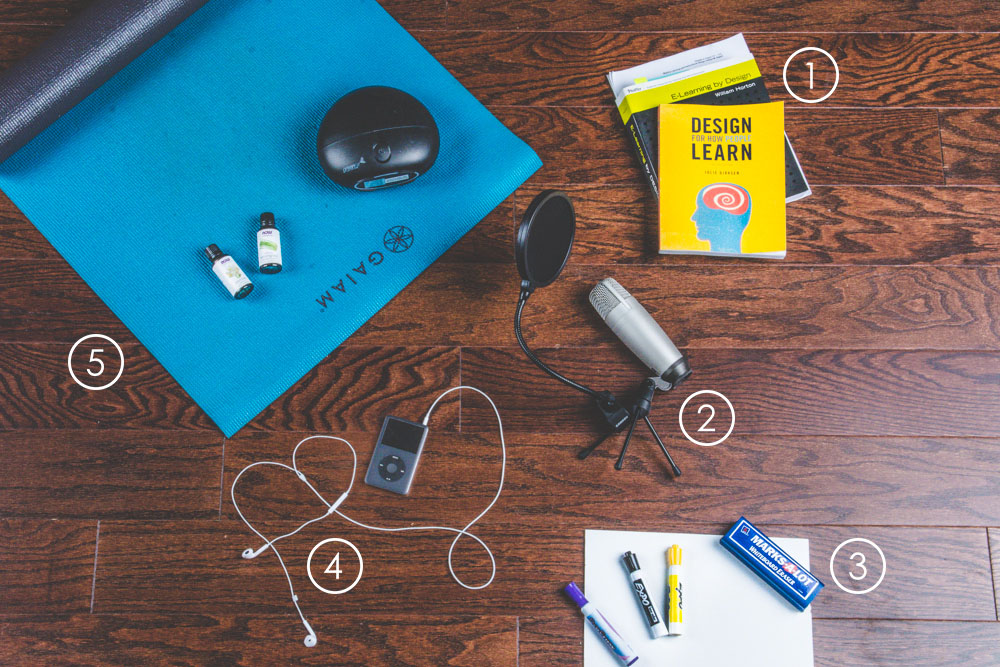 Books – I'm new to the world of Adult Learning and Instructional Design, so I do a LOT of industry reading for work. The book I'm currently reading: Design for How People Learn by Julie Dirksen.
Recording Microphone – Part of my job at Leggett & Platt includes recording voiceovers for on-demand learning like software tutorials and e-learning courses.
Marker Board + Eraser – I write scripts, class outlines, and copy for mass email. I also create vector graphics and choose images for our live presentations. The brainstorming for all my projects starts here, on a marker board.
Headphones + iPod – This is a creative brainstorming essential! I've been caught all-out dancing in my office more than once, but I won't apologize. It gets my creative juices flowing! The most recent jam I've been playing on repeat: Lose It by Oh Wonder.
Yoga Mat + Essential Oils + Diffuser – I really do keep these items in my office at all times – because I'm a total hippy.
Shela Ward, Copywriter in Creative Services
Job in a nutshell: Lots of writing, usually about wire, wire-forming, wire-related products, and products made out of wire.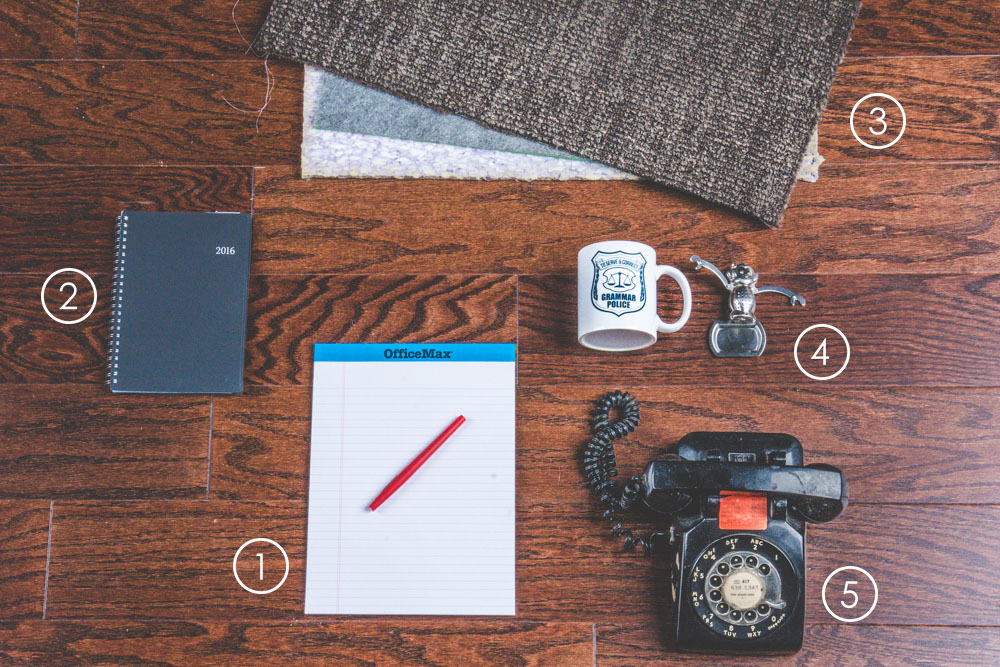 Red Pen + Notepad – A red pen and a blank page are a writer's best friends.
Planner – With all the technology available to keep me organized, I still rely on a planner. I find that writing things by hand helps me remember better, and I love the feeling of checking off a to-do list.
Carpet Cushion Squares – After these carpet cushion squares starred in a photo shoot for a work brochure, I nabbed them to create a more comfortable floor for my standing desk. Repurposing carpet cushion that's made of recycled material? I call that a win.
Monkey Tea Infuser + Mug – I start every day with a cup of tea. Then I drink three more throughout the day. Lately I've been on a peppermint tea kick, but I don't discriminate.
Rotary Phone – For calls from the President, or for when I'm feeling nostalgic for a simpler time.
Meaghan Younker, Talent Advisor in Human Resources
Job in a nutshell: Recruiting, interviewing, and evaluating candidates while helping hiring managers fill positions across the company.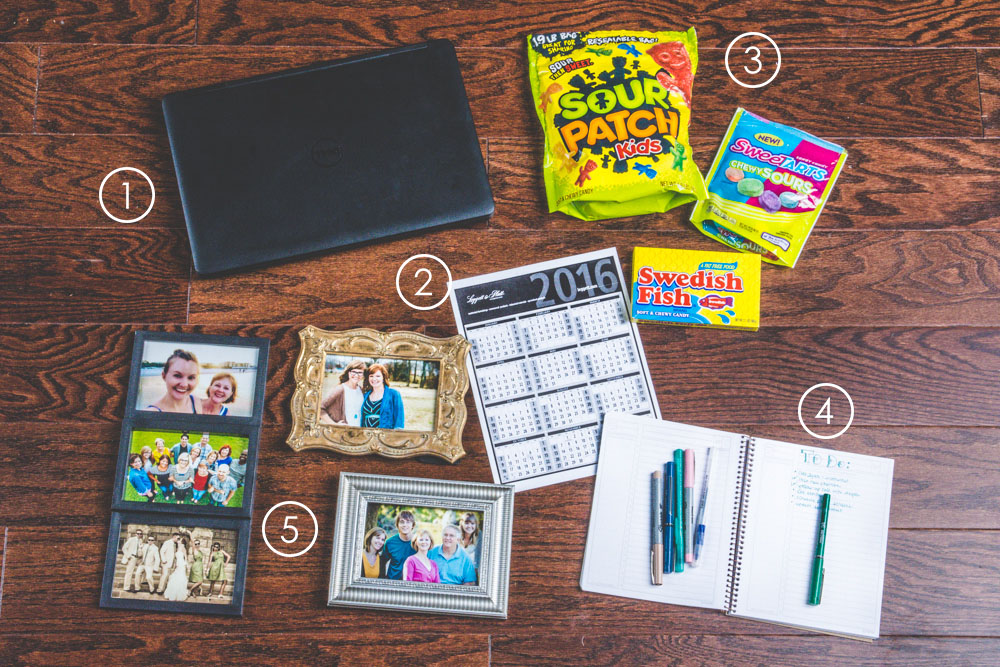 Laptop – I spend the majority of my day within our applicant tracking system, reviewing resumes for each position I'm working on. At any given time, I have 8-10 positions on my plate, which means hundreds of resumes to review!
Calendar – A big part of my job is scheduling phone screens and final interviews with candidates, so I glance at this calendar at least 807 times per day.
Candy – Sour candy is my jam. No day is complete without this afternoon pick-me-up. (Having candy in your desk is also a good way to attract visitors to your office, if you enjoy company every now and then.)
Notepad + Colorful Pens – Because I'm always working on several things at once, I keep a fairly extensive to-do list each day. I use pretty colored pens to keep life interesting.
Pictures – I love memories and I love people. Photos of my favorite people cover my gray office walls because it's cozier that way!