Matt Heflin drinks tea from a bright red, bulbous teapot. He doesn't sit at his desk; he stands. Occasionally he perches on a tall metallic stool. His office lights are off but a tiny bit of sunlight peeks through his window.
He's in his creative zone.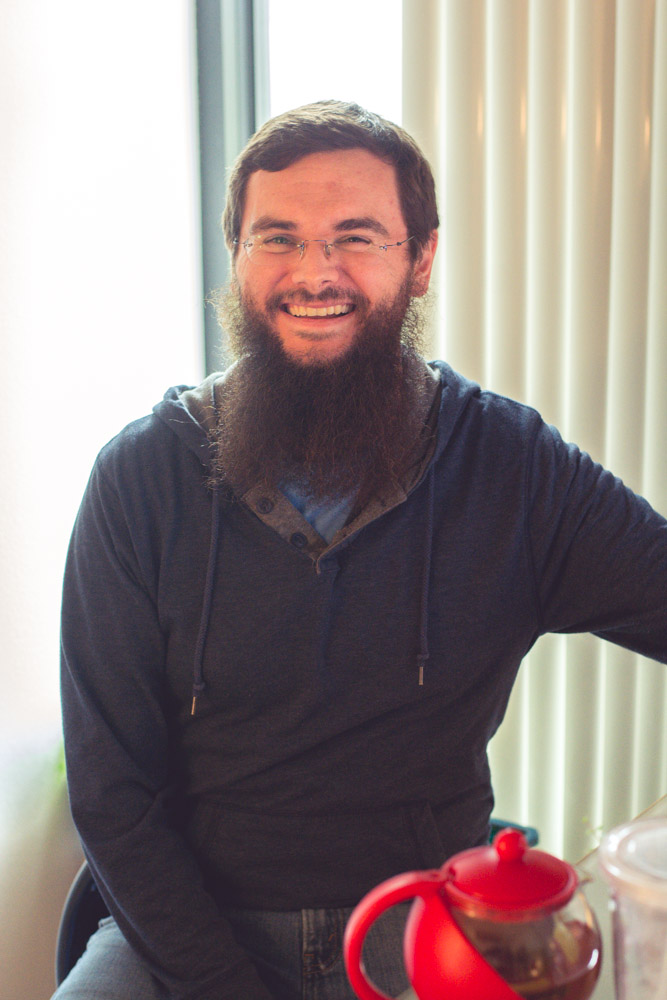 As a Graphic Designer for Leggett & Platt's Creative Services, Matt partners with a team of artists and designers who form our internal advertising agency.
Hired in April 2014, Matt is still relatively new in his role, but his creative nature goes back many years. His longtime devotion to music, passion for ceramics, and love for painting led him to study Fine Art at Pittsburg State University, where he earned a degree in Commercial Graphics and Graphic Design. In college, he also received national recognition, winning the Student Gold Award from the American Advertising Association.
What does a typical workday look like for you?
In a word: projects. I design pieces of art for customers who are trying to build their brand, promote an event, or sell a product. I usually have about seven projects going at once, all of which vary in urgency. I constantly coordinate with the clients – asking them for more direction on the materials, trying to get artwork narrowed down, or seeking approval on finished items.
My job is very collaborative with the others in Creative Services. A typical day includes checking in with photographers, copywriters, and art directors who are all part of our standard peer review process. Someone else will look at a piece of art that I've been looking at for hours and will catch something I didn't notice.
What makes it a good day at work?
I work with amazingly clever and hilarious people. If you need proof, you should have been here last Halloween. But moreover, as a creative person, it's very important for me to feel relaxed in my workspace. I'm able to decorate my walls as I please. I have a window in my office and get inspired by looking outside at the trees, grass, and lately a few goslings that drop by. Expressive freedom means everything in my job and I'm granted that freedom here, even down to what I wear and what's on my walls.
Where do you get your inspiration?
I'm often asked that question, and I truly find inspiration in just about anything. Everyday items are beautiful. I'm always analyzing what's around me, whether it's clothing, architecture, or nature. I notice shapes, colors, textures, and patterns at all times. Plus I take pictures of everything for my archives and collect ideas from design-related blogs and magazines.
What are some challenges you face?
I have to keep up with the incredible creativity surrounding me. I feel very pushed by colleagues and managers to perform at my best. High expectations can be terrifying, but when my boss expects quality work with every project, I find that I'm more proud of the end result.
Another challenge is that I can get very comfortable in doing things my own way. I've had some lessons in adapting to new ideas. When I started here, for example, I had to learn a more structured process of filing and documenting my work. A lot of other people depend on my materials and must be able to search for them within our filing system.
What advice would you give to a creative person looking to start their career?
First, keep learning and growing. Fine-tune your design sense. Know what you're really good at; know what you could get better at.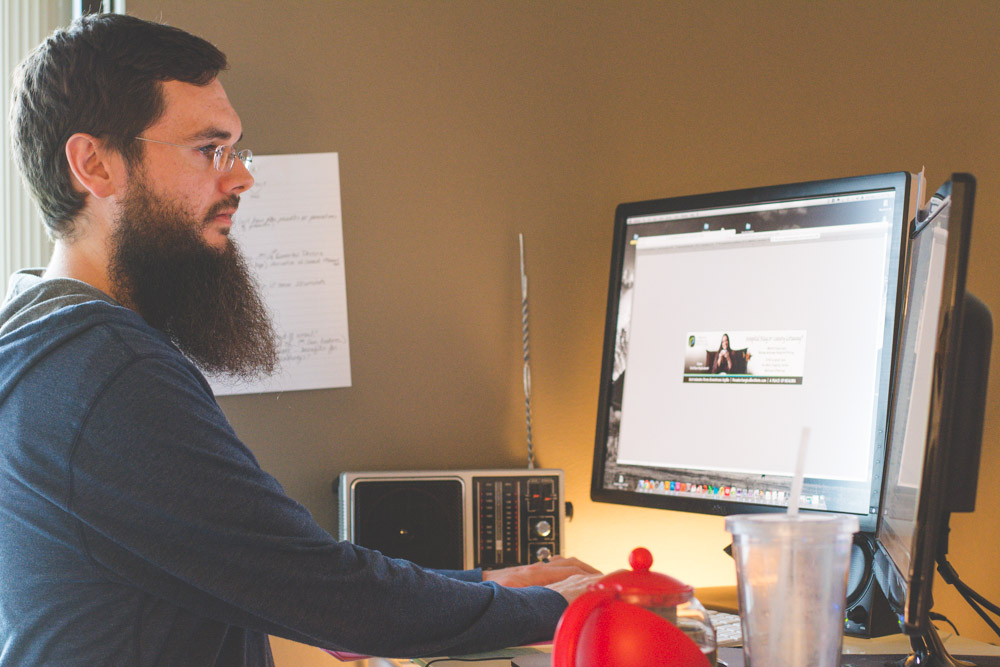 Second, use past work as motivation for the future. Sure, it can be tempting for all of us creative folks to look back and say, "What was I thinking with that one?" I admit to doing just that. But make this a learning tool. Analyze past work and think about how you could improve it in future projects.
Finally, don't settle. Recently I was asked to design the invitation for an annual local event. I wanted to do something that had not been done before, so I looked at the structure of the invitation. Does an invitation have to be a two-dimensional piece of paper? Not necessarily. I opted to create a three-dimensional pop-out invitation. So the advice here is that when you're assigned a project, take any and all parameters and blow them up. Push the envelope on what you're doing.
About the Author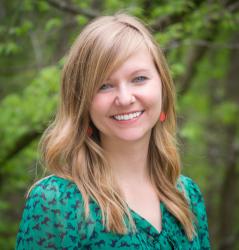 Good conversation–there's nothing better. I've always been a fan of people and the stories they tell. As a Talent Advisor for Leggett & Platt, I get to hear good ones every day when I'm listening to our candidates' stories as I get to know them during the hiring process.
When I'm not at work, I enjoy photography–telling my own story from behind a camera lens. I've also been known to write a poem or two, which stems from a long-held interest in creative writing. After dreaming up wild characters and fantastical plots as a kid, I guess I just couldn't keep my ideas in my head any longer. Someday you should ask me about Chester the Mini Dragon.