At Leggett & Platt, we care about finding a better way to do things. The whole company puts a priority on quality and continuous improvement, but some businesses, like our Automotive Group, have to meet extra high standards. "Customers expect their products to be free of defects," explained Mitch Dolloff, Automotive Group VP. This requires rigorous improvement to designs, processes, and materials.
Perhaps no one embodies quality and continuous improvement in Automotive more than Sonia Smith. Armed with technical expertise, industry insight, and an incandescent personality, she's the "go-to person for manufacturing and business process improvement," according to Mitch. Based in South Wales, Sonia has been the Director of Quality and Program Management for our European automotive operations since 2006.
What was life like prior to joining Leggett?
I've always worked in the automotive industry, and my forte is operations. Before coming to Leggett, I worked for other automotive companies including Honda and Toyota. I'm passionate about lean manufacturing techniques, so I became a Certified Six Sigma Master Black Belt.
At Leggett, I'm responsible for finding ways to reduce waste and cost, and I also define the quality risks before we implement a new program.
What do you enjoy about your job?
I love to change something for the better. That's what lean manufacturing is all about: changing a product, process, mindset, or even an overall culture. There's a popular lean manufacturing book called Learning to See that sums up what I do—teaching people to see things differently. If I alter a manufacturing process that people have used every day for years, then I'm also responsible to help them understand and adapt to that change.
I love when these efforts multiply to impact the company. In 2009, I worked with one of our branches in South Wales to create a training program for seven people to improve internal processes. I simply wanted to mentor the trainees, but by the time we finished, we ended up with a cost savings of over 1.1 million euros! These savings were not the priority for the project, but they were certainly a welcome result.
What's a typical day like for you?
A typical day? [laughing] Well, there isn't one, but most of my work revolves around program management. For example, I ensure new vehicle components are ready for production by managing the cycle of product design, process design, launch, and feedback.
What challenges do you face?
People don't always buy into new ideas, no matter how grand they appear. Over the years, I've learned the importance of listening and fostering great working relationships. When people struggle to change, there are deeper reasons behind it. Once you understand the people who will use the product or manage the process, then you can make improvements accordingly.
What advice do you have for someone who wants a career in continuous improvement?
First, you need to be very passionate about change. Passion enables you to readily dive into any kind of process—whether it's manufacturing or administrative—to consider possible areas of waste. Then creativity kicks in, and you can brainstorm ideas for change.
Second, simply raise your hand. This goes for anyone in the workplace who wants to make a change. You'll never know what difference you can make if you don't start somewhere. Multiplying knowledge and passion defines success in this field. One individual effort can ignite a flame in another person to be creative and ambitious—and that fire spreads quickly. It's remarkable how one person can impact an entire company.
About the Author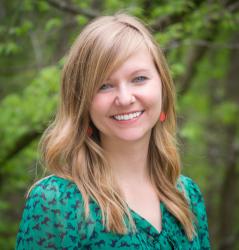 Good conversation–there's nothing better. I've always been a fan of people and the stories they tell. As a Talent Advisor for Leggett & Platt, I get to hear good ones every day when I'm listening to our candidates' stories as I get to know them during the hiring process.
When I'm not at work, I enjoy photography–telling my own story from behind a camera lens. I've also been known to write a poem or two, which stems from a long-held interest in creative writing. After dreaming up wild characters and fantastical plots as a kid, I guess I just couldn't keep my ideas in my head any longer. Someday you should ask me about Chester the Mini Dragon.