Be it to peers or upper management, in-person or online, professional presentations can be scary. At least, they are for those who suffer from speech anxiety, including yours truly. However, I've found from experience that properly preparing for a presentation and avoiding the list below will help calm those speech-day jitters.
---
1) Don't wear brand-new shoes.
I can't say anything for men's dress shoes, but FYI women's dress shoes are adorable torture devices for the first few wears. On my first presentation day, I assumed a particular pair weren't going to be painful because they were flat shoes. I. Was. So. Wrong. My feet were mangled toma-toes. Then, the right shoe broke an hour before go-time. My advice for you: wear your nice new shoes at least once before the big day to break them in and make sure they hold up.
2) Don't drink large amounts of caffeine.
For me, getting ready to speak in front of people is like willingly hanging one-handed from an airplane at 30,000 feet in the air. I don't need help staying awake on these days and adding caffeine jitters to the mix is just no good. Plus you don't want to have to run to the restroom in the middle of questions. Awkward.
3) Don't work yourself up.
I struggle with this too, so I'm right there with you. But Harvard Business Review says that "nerves are not a disaster. The audience expects you to be nervous. It's a natural body response that can actually improve your performance…" So, breathe! Speaking in front of people takes guts and others know that. You're sure to impress just by getting up there. (For a little more on speech anxiety, read my manager's tips for stage fright, below.)
4) Don't assume your audience knows how to use the software.
This one applies to live webinars. For my first webinar series, my project team decided that Microsoft Lync would work best for training. I assumed my audience had used Lync Meeting before, based on our decision. They hadn't. Some of them didn't even have it installed on their computer! As it happened, a few individuals missed the webinar and I had to do some major rescheduling. Lesson learned: make sure you know your audience. Then double check to make sure you know your audience.
5) Don't assume YOU know how to use the software.
(The same goes for the hardware.) I learned the hard way that there's a right and wrong method to close out of a Lync Webinar. When you do it the wrong way, it messes up your next meeting's audio bridge and no one can hear you. After I gave my training to a mute audience, I had to reschedule it all over again. Oops. My advice: always test run the exact scenario a week or two before the presentation—with the software and hardware you'll be using during go-time—that way, you can troubleshoot issues before they happen in front of a live audience.
Leggett's Tips for Presentation Jitters
Leggett & Platt occasionally offers an in-house class—that I highly recommend—called Effective Communicator. In it, Learning & Development Manager, Alissa Owsley, suggests these ways to overcome fear, or at least, to appear less nervous on stage:
Don't apologize. Apologizing only draws attention to your nerves.
Get the audience talking. It redirects the focus from you to them and makes the presentation feel more conversational.
Tell a story. Telling a story helps your audience connect to your message and you. Generating positive energy works wonders all around.
Find a friendly. Find the friendly faces in the audience and speak directly to them. No matter what you do, haters gonna hate. It's better not to focus on them.
Practice, practice, practice. Practice until you're reciting it in your dreams. This will give you confidence in your ability to present the material.
Stop practicing. Alissa suggests stopping your practice regimen at least 24 hours before the big day. By this point, you should know your stuff anyway, and giving yourself a break will make the content feel unscripted.
And Alissa's final words of wisdom, "fake it until you BECOME it." Experience is the only way we get better. Good luck!
About the Author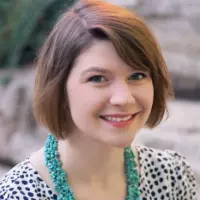 My love of words began at an early age: speaking in rhymes and alliterations just because I liked the sound of them. As I grew, I began to appreciate the way words connected to create images in poetry and the impact they had on others as a story. I believe it was this initial fascination (paired with a little design and technical knack) that led me into the Learning Design Specialist position at Leggett & Platt. Now I get to leverage words, visuals, and learning strategies to contribute to the professional development of our people. The work is challenging and creative which keeps me engaged, but it's the give back element that makes it all worthwhile.