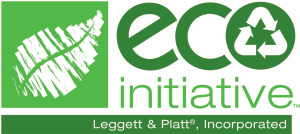 Leggett & Platt employees are committed to protecting and preserving the environment. We're quite proud of the effort these teams have made through their commitment to the Eco Initiative, a program that provides guidelines for a proactive environmental management system.
We've highlighted five stories from the fall edition of "Eco News," our quarterly internal newsletter, to share with you:
1. Flex-O-Lators improves efficiency and lowers costs through Eco Initiative
"These projects strike at the heart of the Eco Initiative. They minimize environmental impacts, result in significant cost savings, and cater to the specific processes of the facility.It goes to show that operating in an environmentally conscious manner makes good business sense." — Bryan Warman, Facility Engineer, Flex-O-Lators
The automotive manufacturing facility in Carthage, MO has implemented a number of improvements since joining the Eco Initiative in February 2014. Some of these include:
A  plastic resin silo that eliminates 715 cardboard gaylords per year
They will ship over 33,000 returnable packaging totes by the end of the year, reducing costs and landfill waste
Save an estimated $27,000 and approximately 3,687 gallons of oil in 2014 by sending oil to a lab for testing rather than following the suggested maintenance schedule
2. Rensselaer, Indiana keeps scrap out of the landfill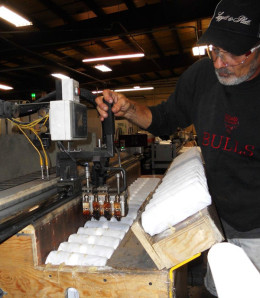 Instead of disposing of defective rows of pocket coils, the team cuts out the individual coils that are defective and uses a custom-built hand assembler to complete queen-size bedding units.
This process reduced the weekly scrap dumpsters usage from three per week to just one per week. This equates to an impressive 45,000 pounds of fabric and 370,000 pounds of wire per year that is diverted from the landfill.
The team has also reduced the amount landfill waste by allowing customers to return crating lumber to the facility for reuse. Now, 1'x3' crating lumber may be used up to five times before the branch must dispose of the piece. This diverts 864,000 pieces from the landfill per year.
3. Winchester Spring ensures random metal is recycled

The folks in Winchester, KY noticed that little pieces of scrap metal were ending up in the sweeper instead of the recycling bin. The solution? Attaching a magnet to their floor sweeper helped collect scrap metal inside the plant.
This nifty and cost-effective addition to the sweeper helps keep the plant clean and reduces safety hazards while increasing the amount of scrap collected.
4. High Point Furniture achieves zero waste-to-landfill status
On October 1, 2014 High Point  Furniture facility in North Carolina was recognized for their efforts in solid waste reduction. Since implementing the EFEC environmental management system in October 2009, the facility has diverted 41 tons of solid waste annually through employee education, utility usage, recycling, packaging reductions, and wood pallet usage.
5. Two L&P facilities recognized by community
For more information, visit leggettgreen.com 
Contributors include:
Theresa Block, Director Corporate Environmental Affairs
Drinda Smith, Corporate Environmental Auditor