What would it take for you to move 5,179 miles across the globe?
For Jamil Sabbag, it took an exciting career change and a strong desire for "something different" in life. In February of 2014, Jamil moved from Sorocaba, Brazil to Carthage, Missouri, U.S.A. to work as an Internal Auditor for Leggett & Platt.
When Jamil noticed the opening at Corporate Headquarters, he thought the opportunity promised a challenging new career for him along with valuable experiences abroad for his wife Maria and their 11-year-old son Gustavo (neither of whom, by the way, spoke English prior to the move). If a relocation of this magnitude sounds adventurous to you, then you're just beginning to scratch the surface with Jamil.
From Big City, Brazil…
Jamil grew up in Braganca, a community in the southeast region of his native Brazil. He spent most days outdoors in the year-round warm weather and quickly developed an appreciation for his mother's Brazilian barbecue.
If you've had the pleasure of meeting Jamil, you'll probably agree that he's a very humble and unassuming person — I was more than surprised when I found out he was the lead singer in a rock 'n' roll cover band called Alfa Zero!
When he wasn't jamming with his band, Jamil studied Mechanical Engineering in Sao Paulo, where he received an undergraduate degree as well as his MBA. Although he recently started working at our Corporate Headquarters, his career with Leggett & Platt actually began in Brazil about 10 years ago. He started out as a Production Scheduler at our branch in Camanducaia, Leggett & Platt de Brasil LTDA. He later transitioned into a role in Information Technology working with imports and exports at the same branch.
…to Small Town, U.S.A.
Now that he has settled into his office at Corporate, Jamil joins a team of 24 other employees within Internal Audit. They audit Leggett's 130 branches and verify compliance with company policies and procedures due to Sarbanes-Oxley. The Internal Audit management team determines an audit schedule for the year, and then a team of three to four auditors is assigned to each audit.
Jamil spends a typical day in the office preparing for upcoming audits. This involves gathering information such as financial statements from the branch and also becoming acquainted with the branch's reporting hierarchy.
Because Leggett's branches are located all over the world, Internal Auditors travel regularly, with March through October being peak travel season. During these months, Jamil finds himself traveling about every other week.
"I enjoy traveling because I get to know the different operations – the people at the branches, how they operate, what products they make," he said. "Leggett is such a diverse company, so every branch is a little bit different from the next."
Once Jamil and the team arrive at a branch, they spend about a week auditing the facility. A typical audit involves several days of detailed and complex work. "We have limited time at the branch to gather all of the information we need and to document each piece of it," Jamil said.
In addition to gathering materials, auditors interview branch personnel to make sure they are following company procedures and regulations. Because the work is detail-intensive, Jamil and the team "typically work very late into the night."
Jamil believes the hard work has been worth the experience he's gained during the past several months. "Being an Internal Auditor is a good way to expand business knowledge and network within the company, since we have the opportunity to be in contact with so many different branches, people, and departments – even in different countries."
From navigating an entirely new city and country to learning the ropes of a new position, Jamil is taking it all in, though it hasn't always been easy. "There's still a lot to learn," he admitted. But he's found incredible support in colleagues who have given him tips on what sights to see, how the public school system works, and even what's involved with a credit history—something that doesn't exist in Brazil.
And rest assured Jamil has even discovered a local BBQ restaurant to be a somewhat decent substitute for his mother's Brazilian cooking. "If I could do it all again, I definitely would," he said. "I'm very happy here."
About the Author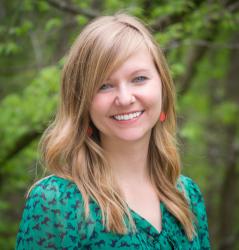 Good conversation–there's nothing better. I've always been a fan of people and the stories they tell. As a Talent Advisor for Leggett & Platt, I get to hear good ones every day when I'm listening to our candidates' stories as I get to know them during the hiring process.
When I'm not at work, I enjoy photography–telling my own story from behind a camera lens. I've also been known to write a poem or two, which stems from a long-held interest in creative writing. After dreaming up wild characters and fantastical plots as a kid, I guess I just couldn't keep my ideas in my head any longer. Someday you should ask me about Chester the Mini Dragon.