Last December, Leggett & Platt acquired Folding Guard, a leading manufacturer of safety, security, and storage products. The transition with Leggett has been a smooth process overall according to Folding Guard President, Jason Wynne. Becoming part of Leggett has created more stability and resources for the branch's 110 employees.
Fifty Years of Success
Founded in 1962 and located just a few blocks from Chicago's Midway Airport, Folding Guard is best known for machine perimeter guarding. These systems protect the manufacturing equipment they enclose, but, more importantly, they protect the people that work on or near those machines.  Folding Guard also sells wire partitions and lockers for access control and loss prevention.
A Cultural Fit
Folding Guard's engineered products require a lot of wire, so Leggett has viewed the company as a potential partner for some time. According to Chuck Kallil, President of Leggett's Tubing and Fabricated Wire Group, "Nearly a year after the acquisition, Folding Guard has exceeded our expectations operationally and financially. Not only are they consuming L&P wire as expected, but they've trimmed operational costs to improve their market position."
While Folding Guard is a strategic fit with Leggett, their focus on customer satisfaction, quality, and safety align them with Leggett's culture as well. Folding Guard's Director of Sales, Pat McMahon says, "Joining Leggett & Platt has been quite refreshing."
A Diverse Customer Base
According to Pat, "We work with distributors and customers from all kinds of industries, including automotive, steel, commercial, and retail. Our customer base is very diverse." Customers can order specially designed products, custom-made to their specifications. For example, Folding Guard utilizes a state-of-the-art powder coater to finish products in any hue of paint, which means products can be made to match the customer's specific company branding or logo colors. To ensure additional customer satisfaction, Folding Guard uses superior materials and rigorous manufacturing standards to create quality products.
With many of Folding Guard's product lines made to protect people from hazardous machinery, being proactive about safety has long been a priority. "It's unfortunate when we have customers coming to us only after they have experienced an accident," explains Jason. "Employee safety is critical as people are the most important asset of any company."
"Joining a company like Leggett that places a big emphasis on employee safety has been a great fit," continues Jason. "The SafeGuard tools have helped us formalize our internal processes, and we've already noticed results." Other Leggett operations are also benefitting from the Folding Guard partnership, with Saf-T-Fence® perimeter guarding being installed at several branches.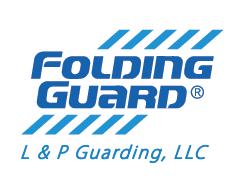 For more information about Folding Guard, please visit 
http://www.foldingguard.com
 or to apply for one of their open positions, visit our
Careers page