This may surprise you. Our employees feel that one of the best places for an Information Technology (IT) professional is within a manufacturing company like Leggett & Platt.

With 140 employees in 25 unique job roles, IT is the largest department at our Corporate headquarters. And it doesn't end there. Over 40 employees support the company in IT functions throughout the world.

Currently our IT team is immersed in one of the biggest projects of their careers: the consolidation of multiple Leggett systems.

This is no small task, as it will involve collaboration with many Leggett & Platt employees throughout the world. It's a multi-year project that will require vast amounts of attention, dedication, and teamwork.

Although there's a lot of work still in front of them, the team feels excited about the possibilities. By streamlining and consolidating these global systems, even small efficiency gains turn into huge cost savings.
What Makes IT Run: People

So what kind of person takes on a project of this magnitude? Meet Nathan Herndon (LinkedIn Profile). He's dedicated. He's relational. He's a problem solver. Nathan brings more than 16 years of experience to his role as one of our IT Directors.
Day to day, Nathan leads a team of developers and analysts who provide IT support and services for business processes in our Legal, Human Resources, Payroll, Risk, and R&D departments. As a liaison between IT and these various departments, he helps to address all IT-related needs. This means he's really good at troubleshooting, developing business cases, and assisting with project requests.

What Makes Projects Happen: Collaboration

Recently, Nathan received a project request from our Legal Department to update the legal matter management and billing system with a more robust one. Nathan first helped build a business case to purchase the new system, which included vetting several vendors and answering technical questions.

Once the business case was approved, Nathan relied on the help of his team to move the project forward. "We do a lot of collaboration in IT," he said. "It's rare that I work by myself. We can't solely complete a project or put something into production. It takes attention and expertise from several individuals working together." For the legal project, the team arranged regular meetings to keep track of their progress. They also continually engaged with every employee who utilized the old system, simply to ensure a smooth transition to the new one.

What Makes Work Fun: Creativity

Nathan maintains that "every day in IT is a learning day," which allows him to harness his creativity. "There are plenty of opportunities which challenge thinking and demand imagination to solve problems," he said. "Each day I get to work through a detailed process and see the results take shape, which makes my job like building a car, except I don't have to get my hands greasy."
We're currently hiring Software Developers in the USA , Mexico, and Croatia. In 2014 we're adding at least ten more IT professionals to the team.
Please apply via LinkedIn today or share via the widget below.
About the Author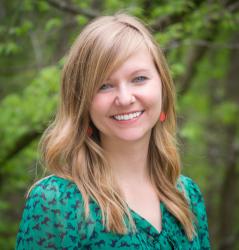 Good conversation–there's nothing better. I've always been a fan of people and the stories they tell. As a Talent Advisor for Leggett & Platt, I get to hear good ones every day when I'm listening to our candidates' stories as I get to know them during the hiring process.
When I'm not at work, I enjoy photography–telling my own story from behind a camera lens. I've also been known to write a poem or two, which stems from a long-held interest in creative writing. After dreaming up wild characters and fantastical plots as a kid, I guess I just couldn't keep my ideas in my head any longer. Someday you should ask me about Chester the Mini Dragon.