Did you know that the largest Electric Arc Furnace in North America belongs to one of our very own manufacturing facilities? In 2002, Leggett & Platt purchased a portion of the former Northwestern Steel & Wire facility in Sterling, Illinois, now known as Sterling Steel. Following major renovations in the melt shop and rod mill, the plant began operating in early 2003.

With a mission to be the safest and lowest-cost supplier of quality rod, Sterling produces about 10,000 tons of wire rod every week. The branch ships the wire rod to Leggett's wire mills to be used in products such as mattresses, furniture, bale ties, and certain automobile applications.
Kevin Mullen, President of Sterling Steel, has been with Leggett & Platt since it acquired Sterling Steel. As a native of Sterling, Illinois, Kevin grew up in the steel industry. He is his family's fourth generation of steel industry workers and a third-generation hire at Sterling, Illinois site. "One of my favorite things about Leggett," said Kevin, "is the insight and willingness of company leaders to invest in new equipment and processes, which allows us to continue supplying a quality product safely."
Kevin also boasts on the branch's environmental efforts. Employees have taken great strides to reduce their environmental footprint by recycling and eliminating waste. The branch recycles wood, oil, cardboard, and light bulbs, but the bulk of recycling efforts continues to be around scrap steel. "We recycle nearly 600,000 tons of scrap steel per year," said Kevin. "This scrap comes from old cars, buildings, and even washers and dryers that we then turn into new steel in the form of wire rod coils."
Behind the Scenes: Scrap Steel to Wire Rod
Sterling's Electric Arc Furnace (EAF) turns scrap steel into 3,000-degree molten liquid for further processing into steel goods.
At Sterling's melt shop, steel scrap arrives on rail cars from our steel scrap provider, Azcon Metals.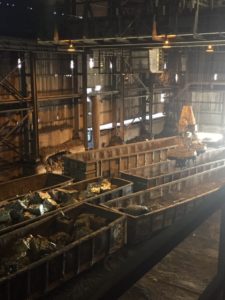 The EAF melts the steel scrap. It is capable of housing up to 415 tons of steel.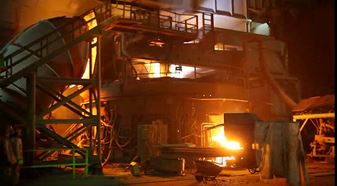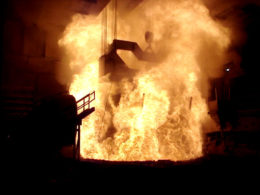 Once the steel melts, it gets cast into billets. These billets are sent to the rod mill to be rolled into rod.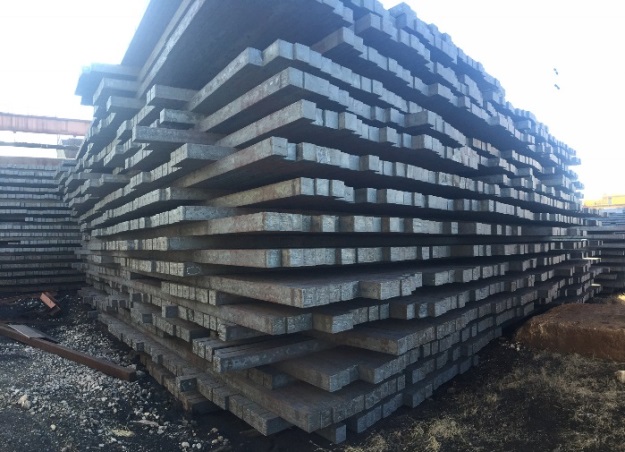 The billets undergo a cooling process, only to be heated up again in the rod mill to produce wire rod. The wire rod can be produced at 19,500 feet per minute – or 220 MPH!
Finally, the wire rod is laid onto vertical rod pallets (carriers), compacted, and placed in rail cars or trucks to be taken throughout the country.