Leggett & Platt is into art (and we're not just talking about cat photos).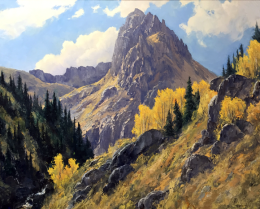 Our former CEOs, Harry Cornell and Felix Wright, have long enjoyed and collected fine art, especially works depicting nature and the American West. Many of these original paintings and sculptures grace our corporate headquarters.
Among the paintings are several works by Andy Thomas, an accomplished professional artist and former Leggett marketing director. Andy's vivid and carefully researched historical paintings have been commissioned and acquired by state and national parks around the country. Leggett is fortunate to own more than a dozen of Andy's early works, including murals of major events in our company's history.
The art certainly beautifies our campus, but it's also intended to inspire an artistic spirit in our people; to encourage the passion and care that will make our work an enduring success.
Below is a small sample of Leggett's collection (okay, so we might not own all of these; see if you can tell them apart):